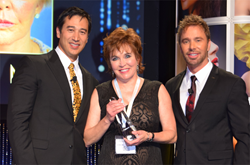 These lasers are the workhorses of my practice. They are intuitive, easy to use on the fly and, very reliable. Lutronic has been wonderful to work with for many years.
Fremont, CA (PRWEB) August 27, 2015
Lutronic, a leading innovator of aesthetic and medical technology, is pleased to announce that Dr. Lori Hansen received the 'Best Overall Facial Makeover' award during The Aesthetic Show's annual event in Las Vegas Nevada this last July.
Dr. Lori Hansen, a long-time proponent of Lutronic aesthetic devices, has run her busy practice in Oklahoma City, OK for over 25 years. This July she won The Aesthetic Show's prestigious award for 'Best Overall Facial Makeover', Dr. Hansen's beautiful make over patient was embarking upon a new career and wanted a new look to match. Beginning with a mid-face lift, with upper and lower blepharoplasty, and submental liposuction using Accusculpt, Dr. Hansen then performed fractionated facial resurfacing immediately post-op with the versatile and effective eCO2. Five days post-operatively she began the first of 6 Healite treatments to decrease redness, speed healing and minimize the discomfort and itching that can often accompany laser resurfacing. Three months postoperatively Dr. Hansen performed several Spectra treatments, a Q-switched Nd-YAG laser, to improve the skins overall quality, texture and tone. Clarity was used alternatively to address some vascular lesions and spot treat some stubborn areas of sun damage. The two machines complement each other by offering a full arsenal of laser wavelengths to target any problem that a patient needs to address.
Finally, eight weeks before the final pictures, an Infini treatment to the full face and neck was done to complete the transformation by maximizing tightening and smoothing the skin, as well as a addressing the few pre-existing scars. A small amount of fillers and botulinum toxin were the icing on the cake. Obviously, Dr. Hansen is a huge fan of Lutronic's machines due to their flexibility, power, and reliability. "These lasers are the workhorses of my practice. They are intuitive, easy to use on the fly and, very reliable. Lutronic has been wonderful to work with for many years. Right now, I am especially excited about Infini, which marries two technologies (RF and Microneedling) that have been proven to work independently, but are fantastic at addressing wrinkles and laxity when combined as they are in the Infini". The patient was thrilled with her results, and the award received by Dr. Hansen.
About Dr. Lori Hansen
Lori Hansen, M.D. is an accomplished facial plastic surgeon, providing aesthetic and surgical treatments for the rejuvenation of the face and neck of clients throughout Oklahoma, as well as other parts of the United States. She is passionate about helping patients bring out their best self, with results that are very natural and not over done. As patients expect and demand cutting edge technology and are trending more toward more non-surgical options, Lutronic has been the perfect partner to keep her patients satisfied and the practice thriving in a competitive market.
A University of Oklahoma Medical School graduate, Dr. Hansen completed her ENT residency both in University of Alabama at Birmingham and at University of Oklahoma Medical Center, followed by a fellowship in facial plastic surgery done in Beverly Hills, California with world famous facial plastic surgeon Frank Kamer, M.D.
Read full bio: http://www.lorihansenmd.com/about/lori-hansen-m-d/
About LUTRONIC
Lutronic, a leading innovator in advanced aesthetic and medical laser and related technology, was established over 15 years ago to bring intuitive, robust, versatile devices that are affordable and efficacious to the worldwide medical community. Committed to improving medicine, Lutronic partners with key opinion leaders to advance science and ensure the efficacy of its systems. All systems are versatile and offer multiple setting and treatment options for customized treatments, which optimize outcomes for a wide variety of conditions and treatments including melasma, tattoo removal, soft tissue incision, vascular lesions, hair removal, wrinkle reduction, rejuvenation, body/face contouring, chronic pain, healing and more.
With a focus on physician needs and patient outcomes, Lutronic dedicates time and funding toward the development of devices that offer features and improvements not found in today's market. Devoting more than 20% of revenues to R&D, Lutronic holds more than 130 current and pending patents worldwide. With more than 230 employees worldwide, Lutronic has offices in the US, Korea, China, and Japan, a worldwide network of distributors, a focused R&D center in Korea, and is ever expanding.
For more information about Lutronic visit: http://www.lutronic.com