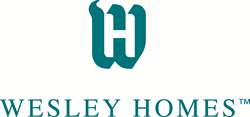 Des Moines, WA (PRWEB) September 02, 2015
Wesley Homes is teaming up with Absher Construction Company to create a full continuum retirement community serving adults age 62 and older. The 14 acre Puyallup site is bordered by Bradley Lake Park to the north and Lowe's home improvement store to the west.
The Wesley Homes model provides all levels of care from independent housing and assisted living to memory care, skilled nursing and rehabilitation. "We invested in this property because Puyallup does not have a not-for-profit retirement community," said Kevin Anderson, Wesley Homes President and CEO.
Both Wesley Homes and Absher Construction Company, based in Puyallup, have been serving their respective residents and clients for more than 70 years so the partnership is a natural fit. The selection process was competitive, and company location was not a major criterion in the decision.
"Success on our projects is determined by many factors, including team synergy, safety and quality, as well as budget and schedule performance. Ultimately, though, our success lies in building the trust of our clients and developing long-term relationships with them," stated Dan Absher, President and CEO.
Plans call for approximately 153 residential accommodations, 49 assisted living and housing with services apartments and 18 apartments for those with memory impairment. A skilled nursing and rehabilitation center with 36 private rooms, serving all of East Pierce County, will be part of the second phase of construction. While a timeline has not been finalized, plans are to break ground early in 2016.
With community volunteer leadership, efforts are underway to raise $6 million to contribute toward the costs of the first phase. Borrowing less funding will help make Wesley Homes Bradley Park more affordable for many and serve a more diverse economic base.
"When we build in a community, we become a community partner for the long-term," said Anderson. "We are making inroads in East Pierce County communities and building the support we need to begin construction."
To receive future updates about Wesley Homes Bradley Park, visit wesleyhomes.org.
Wesley Homes is a not-for-profit organization providing retirement communities and a network of services offering a continuum of care. Established in 1944, Wesley Homes operates two retirement communities and a home health agency. Wesley Homes Des Moines is a continuing care retirement community offering cottage homes, apartments, assisted living and skilled nursing. Wesley Homes Lea Hill in Auburn offers village homes, apartments, assisted living and memory care. Wesley Homes Community Health Services provides in-home care and home health services to clients in King and Pierce counties. Wesley Homes is affiliated with the Pacific Northwest Annual Conference of the United Methodist Church.