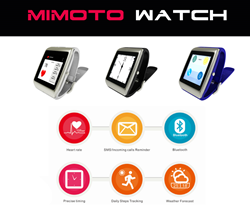 What's the value of transferring the same information from your pocket to your wrist?
Philadelphia, PA (PRWEB) August 29, 2015
In order to justify its price tag, a lot of technology companies have been bundling as much applications into their smart watches as possible. Having different application options is great, but current smartwatches have too many unnecessary applications and are too costly.
When consumers pay $250 to $400 for a new smartwatch, they expect some great new applications on that watch. The reality is that 98% of those applications already exist on their phone. What's the value of transferring the same information from your pocket to your wrist and paying a huge price for it?
Engineers at Mimoto Tech believe that there is no value in doing that. Consumers are paying too much money for redundant applications they already have. A smartwatch should only have features that will be used on regular bases.
To challenge the current technology market, the Philadelphia based startup is launching Mimoto Watch on Kickstarter, this coming September. They are hoping to change how we look at smartwatches, by creating a quality watch, with great applications and keeping it below $100.
For a smartwatch that's so affordable, it has some of the most essential features anyone would want on their wrist. It has a built in heart monitor, built in pedometer, a compass and shows real-time weather. Mimoto Watch works with both Android and iOS phones, shows SMS, social media, email and phone call notifications. You can reply to phone calls, using programmable text messages; if that's not your cup of tea, you can easily record voice reminders and send them as messages. That's just a few of its main features.
The watch has 1.0GHz CPU speed, 512MB RAM, 4GB ROM memory and 350 mAh, 3-7 day battery life. It has ultra-low power consumption of 0.07W/MHz, and can easily outperform other smartwatches with the same battery specs.
Mimoto Tech is not trying to reinvent the smartwatch; instead, they are trying to put more value into it. Their goal is to create a watch with the same specifications as other higher end watches but at a fraction of the price, says company founder Roman Mimoto. It's easier said than done; because they had to totally reinvent their supply chain process in order to get to the right price point, but they have clearly accomplished their goal. Mimoto Watch was developed to be robust, yet simple, full of essential applications, yet affordable.
https://twitter.com/romanmimoto
https://www.facebook.com/mimototech
http://www.mimototech.com