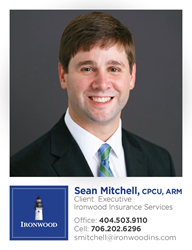 Sean has a great reputation in the industry and I'm excited to have him join our team
Atlanta, GA. (PRWEB) September 09, 2015
Ironwood Insurance Services is an Atlanta-based brokerage firm specializing in serving the middle market in the areas of risk management, property and casualty insurance, employee benefits and custom HR solutions. Committed to offering highly specialized resources with a strong, dedicated service team, the firm has grown significantly since its founding in 2007. The firm is pleased to announce the addition of Sean Mitchell, CPCU, ARM, to its team as a Client Executive.
Ironwood's property & casualty insurance professionals have specialized knowledge and insights on a diverse range of products and services. Taking the time to understand each client's unique business needs, Client Executives design the appropriate risk management program and help implement a hands-on service plan.
"Sean has a great reputation in the industry and I'm excited to have him join our team. With his experience and global risk management knowledge, he will be an extremely valuable asset to Ironwood and our clients as we continue to expand and grow internationally," says Matt Hene, Partner of Ironwood.
Sean holds a degree from the University of Georgia in Risk Management and Insurance and has also completed the CPCU & ARM designations. Mr. Mitchell began his career at Marsh Atlanta in 2007. He worked in the casualty placement group where he specialized in program design, alternative risk financing solutions, collateral negotiations and marketing for a variety of industries. He worked with a diverse group of clients with a focus on large global risk management programs.
Sean will be working with Matt Hene and providing Ironwood clients with strategic and consultative service in all aspects of their risk and insurance programs.
About Ironwood Insurance Services: Ironwood Insurance Services is a privately held firm, with over 60 team members, providing insurance brokerage, surety, risk management, employee benefits consulting and human resources outsourcing services. Our firm was founded on the principles of teamwork, integrity and service to others. We recognize that our people are our most valuable asset and believe that great people deliver excellent customer service. Our success is measured by the amount of positive impact we have in the lives of our clients, employees, shareholders and community. To learn more about Ironwood Insurance Services, please visit http://www.ironwoodins.com.