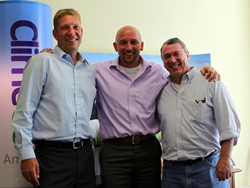 "Both entities were established upon a commitment to the idea that environmental protection makes good economic sense, and taking responsibility for the emissions we generate can be managed economically," stated ClimeCo president, William Flederbach.
Boyertown, PA (PRWEB) August 27, 2015
ClimeCo Corporation's current position as top provider of voluntary carbon credits under the Climate Action Reserve expands with the purchase of Environmental Credit Corp., signed into agreement August 24, 2015.
Environmental Credit Corp. was established in 2004 to help farmers, organic resource and waste managers, refrigerant recyclers, municipalities and others develop and operate projects that reduce greenhouse gas (GHG) emissions.
"ClimeCo has been purchasing top-quality carbon offsets from Environmental Credit Corp. since 2011," stated ClimeCo president – William Flederbach. "Both entities were established upon a commitment to the idea that environmental protection makes good economic sense, and taking responsibility for the emissions we generate can be managed economically."
With more than 50 greenhouse gas (GHG) mitigation and carbon offset projects to its name, the acquisition of Environmental Credit Corp. substantially increases and diversifies ClimeCo's offset and commodities options portfolio with additional voluntary products and California Air Resources Board (CARB) compliance grade offsets through a variety of approved protocols. Fifteen of these projects are currently in operation and will be integrated into ClimeCo's portfolio.

Ozone Depleting Substance destruction
Livestock methane capture
Organic waste composting
ClimeCo's agricultural partners will benefit from Environmental Credit Corp.'s AB-32 expertise particularly in the areas of agricultural methane and soil nitrification expertise. ClimeCo's agricultural service platform now includes dedicated, in-house scientific and policy expertise covering:

soil ecology
carbon and nutrient cycling
nitrogen management
ClimeCo's industrial partners will benefit from enhanced capabilities in the area of refrigerant management, including destruction of ozone depleting substances such as chlorofluorocarbons (CFCs), and management/recycling of newer hydrochlorofluorocarbon (HCFC) and hydrofluorocarbon (HFC) refrigerants. These services, which also expand ClimeCo's portfolio and pipeline of ARB-compliance offset credits, fit in perfectly with ClimeCo's expertise in thermal oxidation and catalytic decomposition, two technologies currently utilized by ClimeCo to create tradable environmental commodities.
"ClimeCo and Environmental Credit Corp. have a long history of doing business together, and we believe that we share similar values and possess complimentary capabilities" stated former Environmental Credit Corp. CEO – Derek Six. "As a combined entity I see our existing project partners benefiting from ClimeCo's areas of expertise, and I look forward to putting ECC's experience in offset project development and cap-and-trade policy development to work for ClimeCo's partners"
Scott Subler, Ph.D., co-founder and former President of Environmental Credit Corp., and current Trustee of the Composting Council Research and Education Foundation, has joined the ClimeCo team as Vice President of Agricultural Services. Dr. Subler is widely recognized as a scientific and policy expert in the areas of agricultural carbon and nutrient cycling and management, soil ecology, and environmental credits, the latter for which he received the Climate Action Reserve's 'Distinguished Carrot' Award. Dr. Subler chaired the Offset Committee of the Chicago Climate Exchange from 2007 to 2011. Additionally, Dr. Subler was founder and President of Pacific Garden Company, a producer and marketer of organic soil fertility products, and a research scientist and professor at The Ohio State University.
Also joining ClimeCo as Vice President and Board Member is Derek Six, former CEO of Environmental Credit Corp. Mr. Six was a Co-Founder and Treasurer of the Carbon Offset Provider's Coalition, and was Assistant Chairman of the Compliance Offset Developer's Association (CODA). He participated in the Climate Action Reserve ODS workgroup, and has produced several research studies involving climate change policy, cap and trade design, as well as the roles of voluntary and compliance offsets. Mr. Six also taught in the Pennsylvania State University's Energy and Sustainability Policy degree program, and continues to guest lecture and participate in various programs at the Smeal College of Business at Penn State. Mr. Six holds EPA Section 608 and 609 Technician Certifications, and is a US Coast Guard-licensed Master Captain.
ClimeCo Corporation is a respected advisor and trader of environmental commodity market products. Specialized expertise in regional criteria pollutant trading programs, California cap-and-trade, voluntary markets and project development and financing of internal CO2 abatement systems complement ClimeCo's diverse commodity portfolio. Within the Climate Action Reserve, ClimeCo is the largest producer of U.S. voluntary carbon offsets, managing projects that reduce more than three million tonnes of CO2e per year. For information, contact 484-415-0501 or cjackson(at)climeco.com.
###