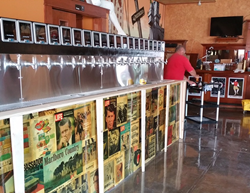 I asked a lot of people in the industry about their reliability and support and everyone I spoke to said very positive things.
Chicago, IL (PRWEB) August 28, 2015
In sports, the term "In the Zone" can be defined as having an increased level of focus and clarity, which translates to higher levels of performance on the field. This is when an athlete or a team is working as one and making all the right moves to prevent the other team from having a chance at victory. Being "in the zone" can also be done in business and PourMyBeer is definitely building up momentum., Founder and CEO of PourMyBeer, Josh Goodman said, "We've done in a few weeks what our competitors would be excited to accomplish in a few months and we're not slowing down, we're filling more orders now than ever before." Planning out 8 installations from New York to Chicago to Los Angeles to Baton Rouge to North Carolina in a short amount of time requires the entire team communicating at a high level with little room for error. Fortunately, PourMyBeer engineered their technology so they don't need to continue to hire additional installation technicians to keep up with the demand. Think of it as IKEA meets self-serve beer systems. Customers have the option of installing the system themselves, which is yet another way they've set themselves up for scale.
The first stop on this road trip was Grand Prix New York, an 80,000 square-foot entertainment facility with the largest indoor race track on the East Coast. With over 60 arcade games and a 19-lane bowling alley with no shortage of big screens, it could be compared to a kid or adult kid's fantasy land. In preparation for the football season and the fall influx of traffic that comes with it, they invested in self-service beer vis-à-vis PourMyBeer. Food & Beverage Director, Mike Leonard of Grand Prix added, "Since we added the Beer Wall, it's been a great addition to the lounge experience for our guests and our staff loves it. We host nearly 2000 events/parties a year, so it's getting a lot of use for that as well."
After New York, the team headed west to Highland, Indiana where they were wrapping up Indiana's first and only completely self-serve beer bar, appropriately named Brew Fest."When you are relying on technology to be the only way for people to access beer, you can't afford to have the system not work or go down," said owner Bob Schwebke. "I did my homework and reference checks on PourMyBeer.I asked a lot of people in the industry about their reliability and support and everyone I spoke to said very positive things. The company that installed my beer system said they exclusively work with them because their stuff works and if there ever is an issue, someone fixes it within 24 hours."
Next, the team headed to California to add two more locations. One location in Buena Park is called Rock & Brews, owned by Rock legend and front man for KISS, Gene Simmons. The other California installation was a golf course neighboring the Rose Bowl that plays host to the largest tailgate party in the world. Needless to say, golfers and guests were excited about its addition. The next day, the team checked out of their hotels, hopped on a plane from LAX and headed to Baton Rouge to add two more locations with Last In Concepts. One was their franchise HQ for Walk-Ons and the other was Happy's Irish Pub located a few hundred feet from the Mississippi River. Walk Ons is expanding rapidly with 4 new franchises slated to open up in the next 60 days, all with self-serve beer. It's no coinceidence that this growth comes on the heels of being voted ESPN's #1 Sports Bar in America and adding NFL Quarterback and SuperBowl MVP Drew Brees as one of their partners. President of Walk Ons, Scott Taylor said, "It's great to partner with a company that is growing as quickly as we are. Their new technology brings a wow factor like never before. Customers can see their beer meters moving as they pour and even touch the screens to learn about the beers on tap."
After living on shrimp and grits and po' boys for a few days, the crew packed up and headed for the sunshine state where they built, tested and shipped several self-serve beer systems being sent to one of the largest breweries in the Caribbean. The final stop on the two week trip was a regional chain in Winston Salem, North Carolina named Hams. This project was unique one and required uninstalling a competitors system that wasn't getting the job done. Senior Project Manager with PourMyBeer, Thomas Palmerino said, "I've installed more self-serve systems than anyone in the World. I've also helped replace a lot of competitive systems that weren't getting the job done. I can say with complete confidence that our software and hardware that we built from the ground up is the most well thought out, well-engineered, stable and easy to install and support self-serve beer system in the World." By simplifying the installation process and making it modular, PourMyBeer has been able to allow their customers to install their own self-serve systems in Australia, Brazil, Europe and Mexico. The future looks bright for the team at PourMyBeer and its investment team fueling their growth.