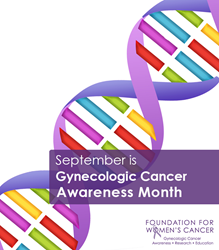 As a third generation survivor, I am committed to sharing crucial information with women about signs and symptoms, and the important role genetics plays for many families. I consider this one of the most important roles of my life. ~ Camille Grammer
Chicago, IL (PRWEB) August 31, 2015
The Foundation for Women's Cancer supports Gynecologic Cancer Awareness Month 2015 in September by sharing the facts about the role of heredity in below-the-belt gynecologic cancers.
Considerable media attention has focused on BRCA1 and BRCA2 genetic mutations because of Angelina Jolie Pitt's decisions to have both her breasts and ovaries removed to prevent breast and ovarian cancers in 2013 and 2015, respectively.
Camille Grammer, Real Housewives of Beverly Hills star and chair of the Foundation for Women's Cancer's 2015 National Race to End Women's Cancer, speaks publicly about Lynch Syndrome, another cancer-causing genetic mutation, its role in her family's cancer history, and her own endometrial cancer survivorship journey.
"I have been in the public eye as a Real Housewife for several years," says Ms. Grammer. "But I have also been a longtime advocate for gynecologic cancer awareness due to my family's health history. As a third generation survivor, I am committed to sharing crucial information with women about signs and symptoms, and the important role genetics plays for many families. I consider this one of the most important roles of my life."
Approximately 5% to 10% of cancers arise due to inherited mutations in genes responsible for hereditary cancer syndromes. The most common hereditary cancer syndromes that cause gynecologic cancers are hereditary breast-ovarian cancer syndrome and Lynch syndrome.
Hereditary Breast-Ovarian Cancer Syndrome
In the United States, approximately 10% of women will develop breast cancer and 1.5% will develop ovarian cancer. Inherited mutations in the BRCA1 and BRCA2 genes dramatically increase the risk of breast, ovarian, fallopian tube and peritoneal cancers. The lifetime risk of having one of the gynecologic cancers is 39-46% in BRCA1 carriers and 12-20% in BRCA2 carriers. These gene mutations also markedly increase breast cancer risk, causing a lifetime risk of 40-85% compared to 12% in the general population.
Lynch Syndrome
Lynch syndrome is due to inherited mutations in DNA mismatch repair genes. About one in 1,000 individuals in the U.S. carry a Lynch syndrome mutation. There is also an increased incidence of several other types of cancers in Lynch syndrome. Most notably, endometrial cancer risk is 40-60%. About 3% of endometrial cancers are attributable to Lynch syndrome. The average age of diagnosis of endometrial cancer in Lynch syndrome is in the early 40's, compared to the early 60's for other cases.
Are You at Risk?
If you have a personal or family history of any of the following, you may be at risk for a hereditary cancer syndrome. Speak to your doctor, genetic counselor, or other qualified healthcare professional to determine if you are at risk for Hereditary Breast and Ovarian Cancer Syndrome or Lynch syndrome. They will know best how to proceed with hereditary risk assessment and genetic testing if necessary.
Women AFFECTED with:

Breast cancer before age 45
Breast cancer before age 50 and have at least one close relative with breast cancer prior to age 50, or ovarian cancer at any age, or a male relative with breast cancer at any age
Breast cancer before age 50 with a limited family history
Breast cancer with ≥2 close relatives with breast cancer at any age
Breast cancer with ≥2 close relatives with pancreatic cancer or aggressive prostate cancer (Gleason score ≥ 7)
Two breast primary cancers, with the first diagnosed prior to age 50
Triple negative breast cancer before age 60
Breast cancer and Ashkenazi Jewish ancestry
Pancreatic cancer with ≥ 2 close relatives with breast, ovarian/tubal/peritoneal, pancreatic, or aggressive prostate cancer (Gleason score ≥ 7)
Women UNAFFECTED with cancer, but with:
A first degree or several close relatives that meet one of the above criteria
A close relative carrying a known BRCA1 or BRCA2 mutation
A close relative with male breast cancer.
The Society of Gynecologic Oncology recommends that all women with high grade epithelial ovarian, tubal and primary peritoneal cancers should receive genetic counseling and be offered genetic testing, even in the absence of family history.
Genetic Testing
Women interested in undergoing genetic counseling and/or testing should speak to their healthcare provider to identify an appropriately trained individual who can provide these services.
To read the Foundation for Women's Cancer full fact sheet on hereditary cancers, click here. For more information on gynecologic cancer risks, symptoms, treatments, latest research and educational resources, visit foundationforwomenscancer.org.
##
The Society of Gynecologic Oncology's (SGO) Foundation for Women's Cancer is dedicated to increasing public awareness of gynecologic cancer risk awareness, prevention, early detection and optimal treatment. Founded by SGO in 1991, the Foundation for Women's Cancer is a nonprofit organization that also provides funding for gynecologic cancer research and training, as well as educational programs and resources. The Foundation's 6th Annual National Race to End Women's Cancer takes place Sunday, November 8 in Washington, D.C. Learn more and register at endwomenscancer.org.