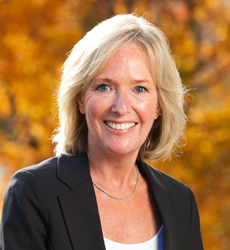 Des Moines, WA (PRWEB) September 03, 2015
Melinda J. Moore, BSN, RN, has accepted the position of executive director of the home health group of Wesley Homes Retirement Communities and Home Health Services.
Moore will manage both Wesley Homes At Home, a certified Medicare and Medicaid service provider, and Wesley Homes Community Health Services, a state licensed home health and home care agency.
"I have a deep understanding of the heart and soul of home care," said Moore. "I believe in really listening to our campus residents and community clients. My priority has always been to make home care services easily accessible. I know what it was like to have to seek home care for my own parents."
Moore's parents lived in a continuing care retirement community. Her father developed dementia; her mother had a stroke and cancer and received palliative care. Moore experienced the difficulties of being a long-distance caregiver, transitioning her parents from their home and getting home care services for them. She also saw how it greatly improved their quality of life and knows how to make a client's and family's experiences as seamless as possible.
"There are many possibilities for growth in the range of services Wesley Homes already provides," said Moore, "and I'm really excited to have such enthusiastic and experienced staff to move our home care program into the future."
Part of that future includes the license for hospice care that Wesley Homes recently received. In addition to managing the organization's home health agencies, Moore is responsible for launching Wesley Homes' hospice program for King County.
"Hospice is a natural expansion for Wesley Homes' continuum of care," said Moore.
For over three years, Moore was director of clinical services for Wesley Homes. She was responsible for program growth, developing and implementing strategic initiatives, improving financial performance, streamlining back-office processes and developing clinical talent. She was also the project manager for software implementation.
Moore has held previous positions as in-home services manager with Good Samaritan Community Healthcare, director of home health and hospice with MultiCare Health System, vice president of sales with Homecare Homebase and director of strategy and planning with OCS, Inc.
Established in 1944 and affiliated with the Pacific Northwest Conference of the United Methodist Church, Wesley Homes operates two retirement communities and a home health agency. Wesley Homes Des Moines is a continuing care retirement community offering independent living cottage homes, apartments, assisted living and skilled nursing. Wesley Homes Lea Hill in Auburn offers Village Homes, apartments and memory care. Wesley Homes Community Health Services provides home health services to clients throughout the Puget Sound region.