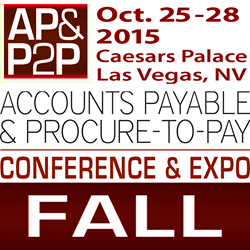 The IOFM Conference is an invaluable event where some of the smartest people in accounts payable and procure-to-pay come together to collaborate and learn from each other
Portland, ME (PRWEB) September 01, 2015
The AP Network, a division of the Institute of Finance & Management (IOFM), is pleased to feature Taulia as Title Sponsor for its fall AP conference, the Accounts Payable & Procure-to-Pay Conference & Expo, taking place October 25-28, 2015 at Caesars Palace, Las Vegas.
"The IOFM Conference is an invaluable event where some of the smartest people in accounts payable and procure-to-pay come together to collaborate and learn from each other. We are thrilled to be the title sponsor of this year's event," said Bhaji Illuminati, Taulia's Director of Marketing. "The conference enables us to network with leading financial professionals to discuss their supply chain needs and uncover strategies to strengthen their supplier relationships and unlock the value within their financial supply chain."
As Title Sponsor, Taulia will sponsor the event's opening reception on Sunday, October 25 from 5:30pm – 7:30pm in the exhibit hall. The company's support of the event will also include an hour-long Solution Provider session entitled "How to Modernize Your Payables Process to Add Millions to Your Bottom Line," taking place from 11:30am – 12:30pm on Monday, October 26. Additionally, Taulia will participate in a "meet the sponsors" session during general session kick-off. Attending practitioners will find Taulia at booth #301 in the exhibit hall.
"Taulia has been a long-time supporter of this event, and we're extremely happy to have them as our Title Sponsor," said Brian Cuthbert, Executive Director of The AP Network. "We are very grateful for Taulia's continued support in our mission to train and educate Accounts Payable and Procure-to-Pay professionals here in the U.S. and abroad," he added.
The four-day conference will kick off with one full day of workshops and certifications, available for attendee purchase via the Value Pass options or a la carte; followed by complimentary Solution Provider workshops and the opening reception. Days two and three will include general sessions, an additional networking reception, keynotes, peer networking groups, and an executive panel. The conference will conclude with another full day of workshops and certifications, also available for an additional fee. The full conference agenda is available at http://www.iofm.com/conference-fall-agenda/full-agenda.
About Taulia
Taulia is the fastest growing SaaS platform and network for Supplier Financing, eInvoicing, and Supplier Portals. Through turning every invoice into a revenue opportunity, Taulia enables organizations to strengthen supplier relationships while adding millions to the bottom line. Some of the most innovative brands in the world rely on Taulia, including Coca-Cola Bottling Co. Consolidated, Pfizer, John Deere, Hallmark, and many other Fortune 500 companies. For more information, visit http://www.taulia.com.
About The AP Network
The AP Network is the largest global community for Accounts Payable, Procure-to-Pay and Financial Shared Services practitioners. TAPN advances the profession and supports its members' success by sharing best practices, tools, and expertise and by fostering peer-to-peer engagement.
The AP Network is one of three membership network within the Institute of Finance and Management (IOFM). IOFM oversees five certification programs which have trained more than 15,000 financial operations professionals worldwide. IOFM's three membership networks (The AP Network, The AR Network and The Controllers Network) feature industry research, benchmarking data, metrics, case studies, tools and other critical compliance resources. The Institute also produces on-demand e-learning resources and industry-leading conferences dedicated to AP, AR and Controllers. With growing certification and membership programs and a keen understanding of the issues and content critical to the profession, IOFM is the trusted source of information in the rapidly evolving field of financial operations.