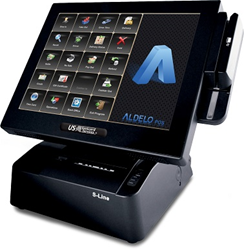 City of Industry, CA (PRWEB) August 31, 2015
US Bankcard Services, Inc. (USBSI) is proud to introduce its new restaurant Point of Sale (POS) system. The POS system combines multiple actions and streamlines them into one sleek system to make business management more efficient for restaurant merchants. In addition to enhanced productivity, merchants who adopt the USBSI POS system will also receive USBSI's renowned customer service and technical support to complement their new system and make running their business an even more rewarding experience.
USBSI's POS system offers centralized business management. By combining the various actions a merchant performs daily into one streamlined system, merchants can be more efficient at running their businesses. With the POS system, merchants can create reservations, place orders, set up time clocks, manage employees, create customer databases, and process credit cards as well as accept cash and other payment types. The POS system scales to the needs of each business and works well with fine dining or quick service restaurants.
In addition, merchants can reduce pricing errors and speed up checkouts, allowing them to serve their customers more efficiently. The touchscreen interface, available in multiple languages and requiring no previous computer experience, adapts to any restaurant environment. The system also provides automatic and detailed reporting, so merchants will be able to track sales, cash flow, food inventory, and simplify their bookkeeping.
USBSI's POS hardware is available for purchase or lease. Furthermore, USBSI will provide its merchants with installation and menu setup services, if needed, as well as complimentary year-round technical support exclusively for merchants who use the POS system. USBSI's POS system provides efficiency, flexibility, and security for restaurant merchants and USBSI is pleased to offer this full featured, PC based POS system to its merchants.
About US Bankcard Services, Inc.
US Bankcard Services, Inc. is a top rated MSP that offers competitive rates, incredible customer service support, and cutting edge technology in credit card processing service. USBSI offers a wide array of value-added services, including sure3 online turn-key solutions, gift card services, check guarantee, PCI-DSS compliance consultancy, and 24-7 multilingual customer service and technical support. US Bankcard Services, Inc. is a registered MSP/ ISO of Elavon, Inc. Georgia.
For more information about merchant bankcard services please visit us at usbsi.com or call us at: 1-888-525-8558.
###