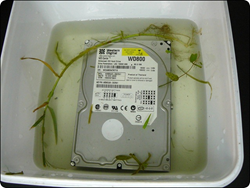 Tampa, Florida (PRWEB) August 31, 2015
The IT industry and the millions of computer users in Florida are at risk of losing the data currently stored on their hard drives. In many instances it is virtually impossible to prevent all data loss, but a few conscientious tips from DTI Data, the Florida leader in data recovery, may help to protect the data on computers and hard drives.
1. First and foremost unplug all computers, DVR players, external USB drives, and the like from the wall socket. Even with a surge suppressor, a high voltage lightning strike can and will scorch the surge suppressor as well as any appliances attached to it.
2. Unplug anything attached to the internet cable. This includes any NAS devices, routers, computers, and surge suppressors. An internet connection is just as lethal for electronics as a wall outlet and is usually not attached to a surge suppressor.
3. Any computers on the floor should be taken off of the floor and placed in a higher place to avoid flood damage. Hurricanes bring with them a great deal of rain than can cause flooding and massive damage to any electronic computing devices.
4. Any devices in a storage container that may have backups that are stored in a local storage area, make sure that those devices are also off of the ground and in a high dry place.
5. Move all electronics away from windows. Hurricane force winds begin at 70 MPH and can gust to over 100 MPH causing debris to shatter windows and destroy those entities that are close to the window.
6. When the storm passes, before plugging anything back in, or turning anything on, smell the device. There may be a burnt or electronic smell if the device was not properly unplugged from a wall socket or internet cable. If there is a 'burnt' smell do not turn the device on as it can destroy internal components. Send or bring the device to DTI Data and we will safely analyze the drive to make sure that the data is safe.
7. If the drive suffers water damage follow these steps:
a. Do not plug the drive in.
b. Do not open the drive.
c. Do not use a dryer, rice, fan, etc to dry the drive.
d. Place the drive in a plastic bag, with water.
e. Send the drive to DTI Data for a free data analysis
How to Package a Water Damaged Hard Drive Video
8. If a clicking sound can be heard from inside the hard drive, there is a possibility that the drive has been damaged from the storm. The hard drive can be sent to DTI Data for a free diagnostic data analysis to determine what the problem is with the drive and if the data can be saved.
9. If there is a squealing sound when the hard drive is plugged in. This sound is normally accompanied by a damaged spindle motor or heads that have been stuck to the platter. DTI Data is quite familiar with this and takes great care in analyzing the possibility of data loss. Send the drive to us for a free diagnostic analysis so that we can safeguard the data.
10. The computer comes up but cannot see the data, or the operating system will not boot. There is a possibility that there is damage to the hard drive or the file system. There are background utilities that can do more damage than good to a corrupted file system (i.e. chkdsk). For a free analysis send the drive to DTI Data and we can ascertain what the problem is and offer a solution.
Hurricane damage can be devastating for life, limb, and home. DTI Data offers these few tips to help prevent data loss. DTI Data offers a helping hand to the Florida community through our no fee diagnostic policy. If for any reason there is an uncertainty about the problem with the computer system or hard drive DTI Data will analyze the problem and offer a viable solution.
We are a business in the local community and we want everyone to be safe from all possible calamity.