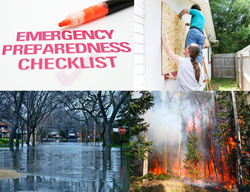 Are You Water-Ready?
DeLand, FL (PRWEB) September 01, 2015
Pelican Water, the market leader in salt-free water softening systems, joins the cause to promote emergency awareness as part of National Preparedness Month.
September is marked by FEMA as "National Preparedness Month," and this year's theme focuses around planning ahead. Key items for consideration include establishing a family communication plan and having emergency supplies prepared, such as food with a long shelf life and purified water, before disaster strikes.
It is crucial for families to have a plan for food dispersal, allotting for which foods and how much food will be consumed each day during the disaster. Cleaner, fresher water is difficult to obtain once the power goes out, making it very important to have a surplus of water on hand.
Be wise in your preparation by considering how much water your family will need to consume per day. When determining water needs, take into account that adults should plan for one gallon of water, per adult, per day, for three days. That amount may be greater depending on the level of physical activity in which you and your family members engage and/or your environmental surroundings.
Pelican Water is pleased to offer a range of in-home reverse osmosis water filtration systems. The systems are designed to require a minimal amount of space beneath your kitchen counter, a minimal amount of annual maintenance, and a minimal amount of effort for installation. The systems boast high filtration rates, removing up to 97% of Arsenic, 96% of Fluoride, 98% of Lead, and 96% of total dissolved solids from the home water source. The filtration systems then return crucial minerals like calcium and magnesium back into the drinking water. All this is done at a fraction of the cost of purchasing bottled water.
Consider a Pelican Water home filtration system to bottle your own water and to gain peace of mind when planning for the unknown.
About Pelican Water Systems
PelicanWater.com is the official, factory-direct retail website for Pelican Water Systems, providing professional knowledge and leading technologies in whole house water filtration, countertop water filtration systems, UV bacteria disinfection systems, as well as salt-free water softening and conditioning systems. Pelican Water products use cutting-edge technology and enable customers to go green by eliminating wasteful and harmful salt brine discharge that is polluting our valuable fresh water resources.
For over a decade, Pelican Water has stayed true to their mission statement: being a company that helps families enjoy cleaner, safer, better-tasting water in their homes in an environmentally-friendly way. Pelican Water has been and continues to be the global market leader in salt-free water softening system. For more information about Pelican Water Systems, visit PelicanWater.com.