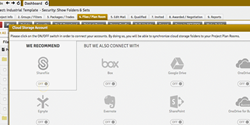 It was a logical step for SmartBidNet to offer this integration and we look forward to adding more integrations that address the needs of our clients.
College Station, TX (PRWEB) September 03, 2015
JBKnowledge, a technology solutions provider to the construction and insurance industries, recently announced that the latest version of the SmartBidNet construction bid software now integrates with Citrix ShareFile®, a secure file sync and sharing solution. The integration allows thousands of general contractor users around the world to seamlessly sync and upload construction project documents from ShareFile to their SmartBidNet online plan room.
"We use ShareFile company-wide as our standard file sharing solution for project management. The ability to upload and sync files from our ShareFile account with SmartBidNet during the pre-construction phase will save our estimators and project managers from the types of file transfer errors that can delay projects once they get started. We're excited to work with this new feature in SmartBidNet," stated David Green, Vice President, Division Manager at Swinerton Builders based in San Francisco, California.
ShareFile is a secure, cloud-based file sharing and storage solution that allows businesses to send, receive, sync, and store files with anyone, anywhere, using any device. To integrate data and documents with ShareFile, SmartBidNet leveraged the ShareFile API along with their own API to integrate file sharing data and services. SmartBidNet is now listed in the Citrix Ready Marketplace as a Citrix compatible solution.
"We built our software in 2006 with an open API because we knew the success of our clients' construction projects would depend on SmartBidNet integrating with their other solutions. Every week, millions of project documents are downloaded from the SmartBidNet software by general contractors and subcontractors building commercial projects from Canada to the Middle East. Our contractors are using company-wide solutions like ShareFile to store documents and they need to distribute and share those documents for bid projects. It was a logical step for our system to offer this integration and we look forward to adding more integrations that address the needs of our clients," stated JBKnowledge CEO James Benham.
Along with ShareFile, this latest version of SmartBidNet integrates with several other widely used cloud storage solutions, allowing users greater accessibility to project documents, more efficient file distribution, and stronger protection for data backup, archival and disaster recovery purposes.
SmartBidNet's newly redesigned mobile app for bid project management is also now available to SmartBidNet users in the iTunes and Google Play mobile app stores for project document management on the go.
For more information on ShareFile, visit http://www.sharefile.com.
For more information on SmartBidNet and a 30 day free trial, visit smartbidnet.com
About JBKnowledge, Inc
JBKnowledge develops cloud, mobile and wearable technology solutions for construction and insurance. JBKnowledge is the maker of the SmartBidNet commercial construction bid software, SmartCompliance certificate of insurance and compliance management software, SmartReality augmented reality mobile app for construction project visualization, and the SmartInsight online construction network for searching, selecting and verifying contractors. JBKnowledge is based in Bryan/College Station, TX, and serves construction clients on an international basis. Learn more at jbknowledge.com
Citrix, Citrix ShareFile and ShareFile are trademarks or registered trademarks of Citrix Systems, Inc. and/or one or more of its subsidiaries, and may be registered in the U.S. Patent and Trademark Office and in other countries.