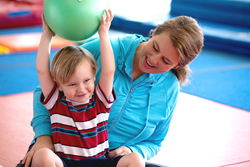 (PRWEB) September 01, 2015
Routines… every family has them. Whether it's a morning routine, meal time routine or weekly routine – routines can help make things easier for parents, caregivers and children too. Here are three reasons why routines can be beneficial for a child:
1. With routines, transitions both big and small become more fluid. When a routine is implemented into a child's schedule, they are able to anticipate what will happen next which provides them with a sense of security, confidence and control.
2. Routines help to foster responsibility and independence. From brushing their teeth in the morning to taking off their shoes before each class at The Little Gym, simple daily routines help children gain a sense of independence and purpose.
3. Routines help to teach cooperation. When a child knows what to expect, there is less wiggle room for power struggles, temper tantrums, and breakdowns.
Programs at The Little Gym use class components that repeat from week to week to help children become comfortable with a routine. The consistent structure helps children gain a sense of security, readying them for new challenges and developmental tasks.
So whether it's a child's nightly bedtime story or their weekly The Little Gym class, consider how routines can help boost your child's confidence, independence and so much more.
A new Season at The Little Gym is starting soon. Find your local gym by visiting http://www.thelittlegym.com.