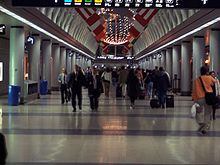 Glastonbury, CT (PRWEB) September 02, 2015
Labor Day Weekend 2015 has almost arrived, which is defined as Thursday, Sept. 3 to Monday, Sept. 7. As predicted, AAA Travel projects 35.5 million Americans will travel 50 miles or more from home during the Labor Day holiday weekend, resulting in the highest travel volume for the holiday since 2008 and an increase of 1 percent compared to 2014.
Approximately 86 percent of all travelers will celebrate the holiday by hitting the road before summer ends. Air travel is also projected to grow 1.5 percent this year, with more than 2.6 million travelers expected to travel by flight - the highest volume of air travel since 2007 for Labor Day. With the number of travelers higher than ever, Travel Insured International, a leading privately owned travel insurance company provides travelers with a few tips to make sure travel is as smooth as possible.
Follow a budget - Try your best to create a budget and stick to it as closely as you can. Before you go, plan out how much you will be spending on your accommodations as well as any planned activities and of course meals for yourself and your traveling companions. Research before you go in order to find the best deals because places often raise prices during the most popular travel weekends of the year. By writing down all of your expenses, you will be much more likely to stick to the intended budget.
Plan your travel route - Traveling during Labor Day weekend is often associated with high gas prices, tons of traffic, and expensive airline tickets. If you are driving, prepare ahead of time by mapping your route and then using road services to get updates and help you avoid heavily trafficked areas. If you are flying, book your flight at off hours or a day or two before or after your intended travel dates and you will most likely save on costs.
Check the forecast - While we all hope Labor Day weekend will be filled with blue skies, the weather can always be unpredictable no matter where you go. Be sure to check the forecast before you leave, and while you are packing. While the forecast can help guide you with what types of clothing to pack, we all know it's hard to rely on completely so bring along enough clothes to layer, as well as the appropriate attire for any activities you plan on taking part in. It will also be helpful in knowing if there could be any intentional interruptions or delays along the way.
Plan for plenty of time - Traffic and airport lines can be some of the most unpredictable aspects of traveling. Plan to arrive two hours prior to your scheduled flight time. If you are driving, aim to leave a half hour to an hour before the time you would like to depart, as well as factoring in any rush hour traffic you may hit. Even though it may feel like wasted time waiting around, it is much better than missing a flight or adding on multiple hours of driving time.
Travel Insured wants to remind travelers that an increase in traffic could potentially cause a higher chance of travel disruptions to occur along the way. It is important for travelers to be aware of protecting their investments due to a higher risk of disruptions including flight delays and cancellations. Investing in a travel insurance policy can also reimburse you for any medical emergencies or lost baggage during your travels. To learn more, visit http://www.travelinsured.com.
About Travel Insured:
Founded in 1994 by Peter Gehris, Travel Insured International is one of the leading travel insurance providers, offering the highest quality worldwide travel insurance protection for over 20 years. Located in Glastonbury, Connecticut, the company offers an array of travel insurance protection benefits including Emergency Assistance and Evacuation, Trip Cancellation and Trip Interruption Protection, Medical Insurance, Baggage Insurance, Airline Ticket Protection, and more.Travel Insured maintains relationships with specialty travel providers and tour operators, as well as provides 24/7 insurance assistance that allows you to travel relaxed, travel secure, and travel insured.
Travel Insured International
855 Winding Brook Drive
Glastonbury, CT 06042