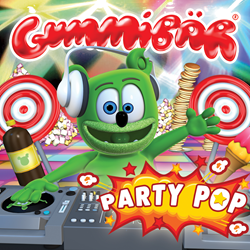 New York, NY (PRWEB) September 01, 2015
With more than 5.2 billion views on YouTube and over 1.5 million subscribers across the Gummibär YouTube Network, Gummibär, everyone's favorite dancing and singing gummy bear character, is the most successful independent recording artist on YouTube. He is also the first independent artist to join the YouTube one billion views club for surpassing a billion views with his hit video "The Gummy Bear Song."
Gummibär has been capturing the hearts and minds of Internet users since 2006 with a long list of viral videos. This brand new album complies his fans' newest favorites in one release. The CD digipak also includes a mini poster and coloring page. "Party Pop," released by Gummybear International will be available Friday, October 16, 2015.
Track Listing:
01. Gummy Twist
02. I Want Candy
03. Woof! There it Is
04. KikiRiki
05. Moves Like Jagger
06. Wati Wati Wu
07. Bubble Up
08. Gummy Style
09. Go For The Goal
10. The Locomotion
11. Gummy Bomba
12. I Am A Gummy Bear (2015 Remix)
13. Monster Mash
14. Lucky Star
15. Lullaby
16. Xmas Town
For more information about the character, visit his website at http://www.thegummybear.com
For official Gummibär merchandise visit: http://www.gummybearshop.com
Visit the official Gummibär YouTube Channel: htttp://http://www.youtube.com/GummyBearIntl
###
About Gummibär
The first Gummibär videos were posted on the internet in 2006 and since then the character has gone on to become one of the most successful animated characters on the internet ever with more than 4 billion combined video views on YouTube alone. The character's music has been released in over 40 different countries and in over 27 different languages. He has his own animated Christmas special as well as a growing line of character merchandise.
About Gummybear International
Gummybear International is engaged in the creation, development, and branding of animated entertainment properties, as well as musical content based on and produced for such properties. It markets and sells recorded musical and video products in various physical formats, such as compact discs and DVDs, and digital formats, such as downloads and ringtones, through a worldwide network of established distributors and licensees. The company's music publishing segment owns and acquires rights to musical compositions, markets these compositions, and receives royalties or fees for their use. It also is actively developing mobile and computer based games and exploiting merchandising rights for its brands in cooperation with a variety of licensing partners. GBI is working on a number of film and TV projects. The company is headquartered in New Jersey. For more information, visit the Gummybear International website at http://www.gummybearinternational.com/.