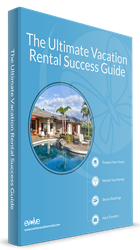 We created this guide to share our experience and knowledge of the industry...
Denver, Colorado (PRWEB) September 01, 2015
Evolve Vacation Rental Network, a Denver-based company that's redefining vacation rental management, has released The Ultimate Vacation Rental Success Guide to demystify the vacation rental process for owners who are interested in learning how to generate rental income from their second home. This free 35-page eBook is a comprehensive guide to every aspect of operating a vacation rental, ranging from "how to prepare your home for guests" to "important legal and tax considerations," providing categorical descriptions for homeowners wanting insight on how to successfully enter the vacation rental world. In addition, the guide includes a number of convenient checklists and email templates to continuously assist homeowners throughout their vacation rental experience.
"Evolve has helped over 1,000 homeowners earn more than $40 million in rental income," said Adam Sherry, Evolve's Co-Founder and CCO. "We created this guide to share our experience and knowledge of the industry in order to make the vacation rental process more accessible for owners."
Evolve handles every aspect of the marketing and booking process for vacation rental homeowners: creation of high-performing property listings, optimized distribution across the most popular vacation rental websites and personalized traveler support, both online and offline. For owners that choose to take a more hands-on approach in renting out their property, The Ultimate Vacation Rental Success Guide serves as an all-encompassing resource, guiding them through Evolve's proven tactics, teaching them how to optimize their vacation rental property to its full potential.
"The time-consuming and burdensome obligations that come with renting out a second home can be daunting," said Brian Egan, Evolve Co-Founder and CEO. "Responding to traveler inquiries, collecting payments and seeing to property maintenance are just a few of the many tasks homeowners must perform on a day-to-day basis in order to maintain a lucrative vacation rental property."
The Ultimate Vacation Rental Success Guide walks homeowners through this process, step by step, in easy-to-understand details, ultimately providing owners with a deeper understanding of the logistics behind the vacation rental experience and how to be successful along the way.
"Evolve's mission is to simplify the vacation rental process for everyone," said Egan. "Our new guide does just that by providing clear-cut guidance for homeowners so that, in turn, they can better serve their guests and earn more rental income."
Homeowners can download The Ultimate Vacation Rental Success Guide for free on the Evolve Vacation Rental Network Blog.
About Evolve Vacation Rental Network, Inc.
Evolve Vacation Rental Network, based in Denver, CO, is redefining vacation rental management by providing homeowners with better performance, lower fees and unrivaled flexibility. Our marketing and booking platform allows us to outperform traditional property managers for a fraction of the cost, and our vetted network of on-the-ground partners are available to handle everything from housekeeping to maintenance. All of this adds up to more rental income for our homeowners and a stress-free travel experience for their guests.