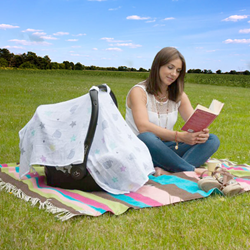 "So impressed with the item that it might be my go-to gift for future baby showers."
(PRWEB) September 03, 2015
Mum n Me is pleased to announce the launch of its Baby Car Seat Cover. The all-new product offers an extra-large size that gives maximum protection from sun exposure, wind, bugs, and germs. The Mum n Me Baby Car Seat Cover comes with easy-to-use button attachment straps that deliver non-slip assurance by keeping the cover securely in place. The new car seat cover is made with breathable cotton muslin that allows air flow and combats overheating. Currently, the car seat cover is available in a unique, gender-neutral elephant-and-star design in vintage colors. The 5-star cover comes with a 100% satisfaction guarantee. If customers aren't happy, they can return the cover within 30 days for a full refund. Customers are enjoying the cover's lightweight, effective design, and it has become a highly recommended baby product.
Mum n Me Co - Founder Pierce White points out that their cover is unique compared to others on the market. "We have seen in the past that other covers and blankets can be very heavy and cause your baby to overheat while under the cover. Our cover is made of breathable cotton muslin which is lightweight and allows air flow, giving you peace of mind that your baby will never overheat" he said. White and his team recently launched a YouTube campaign to reach parents. "Sales have taken a dramatic leap since our new video for the Car Seat Cover was released on YouTube last month. It's a bit of 'Fun' video, but people seem to like it!" White is also encouraging people to like Mum n Me's Facebook Page to join the their growing community of parents.
Moms, Dads and expecting parents can learn more about the car seat cover at Amazon.com by reading reviews from Amazon customers who have bought and used the product. Amazon shoppers can purchase it exclusively through Amazon.com.
To celebrate the launch of their new car seat cover, for a limited time customers can save 20 percent by using coupon code "SALEME20" at checkout.
More information about Mum n Me can be found at http://www.mumnmestore.com/