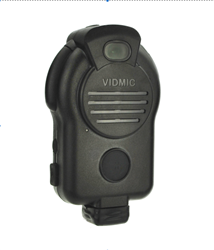 The VidMic VX™ body camera was the logical choice for Harris because of its many advanced features and ali-in-one speaker microphone and body worn camera capabilities
Salt Lake City, UT (PRWEB) September 08, 2015
Safety Innovations demonstrates live video streaming across an LTE network using the new Harris XL-200P, a P25 multiband radio and the VidMic VX™ all-in-one speaker mic and body camera from Safety Innovations. The demonstration, shown at APCO 2015 in Washington, DC, consisted of a VidMic VX™ body camera, the XL-200P radio and an Android tablet.
The VidMic VX™ provided a live video stream to an XL-200P radio. The radio then transmitted the video across a private LTE network to another XL-200P radio. The android tablet, connected via WIFI to the second radio, displayed the live video stream.
"The VidMic VX™ Body Camera was the logical choice to demonstrate the XL-200P multiband capabilities many advanced features and all-in-one speaker microphone and Body Worn Camera capabilities." said Michael Nelson, CEO of Safety Innovations. "The technology that was demonstrated has many applications - including giving police command staff the ability to view an incident, in real time, while communicating with those involved to ensure a desired outcome."
VidMic VX™ is a body-worn camera built into a radio speaker microphone. The combination of the two devices into one unit reduces the quantity, weight and complexity of equipment the officer wears. The VidMic VX™ has Safety Innovations' AccuView™ technology, capable of recording video in very low light conditions. The VidMic VX™ is a fifth-generation device, based on the original VidMic™ - the first body-worn camera ever used by public safety professionals.
In addition to the VidMic VX™, Safety Innovations manufactures the VidCam VX™ stand alone body camera and VidVault™ evidence management software. VidVault™ is an enterprise-class evidence management system providing secure chain of custody. The flexibility of VidVault™ allows departments to decide whether to host their evidence management on premise, in the cloud, or a hybrid of both.
About Safety Innovations
Safety Innovations has been providing law enforcement, first responders and the military body cameras and accessories for over 20 years. Safety Innovations' accessories and body worn cameras are used by hundreds of agencies and thousands of officers worldwide. Safety Innovations develops and manufactures the VidMic VX™, VidCam VX™ body cameras and VidVault™ evidence management software in the USA. Learn more at Safetyinnovations.com
Press Contact:
press(at)safetyinnovations(dot)com
801-560-7060