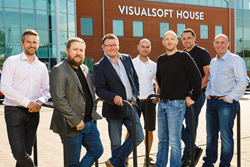 Teesside, UK (PRWEB UK) 2 September 2015
Originally designed for use within the Visualsoft office, Hive is a cloud-based software solution which measures employee engagement and has been developed to increase motivation and productivity in the workplace. After seeing a 30% improvement in the motivation and working culture within Visualsoft, following the implementation of Hive, the team decided to incubate the new business in their newly-formed Innovation Lab, which takes new business ideas, develops them and releases them to market.
Founded in 1998, Visualsoft has grown significantly and now employs 200 people with offices in Teesside, Newcastle and London. Dedicated to designing, building and marketing outstanding eCommerce stores, Visualsoft's insight and experience has secured their position as an industry leader.
A key focus at Visualsoft is the performance of their people, in terms of employee engagement, motivation, happiness and productivity.
Dean Benson, CEO of Visualsoft, said: "At Visualsoft, we believe in empowering our staff at all levels to make their own decisions and grow into their roles - employee engagement is a key part of that. We're constantly striving to improve our own business processes and now we want other businesses to benefit from using the software."
There's a growing body of evidence which demonstrates that employee engagement translates into sustainable financial growth, improves productivity, helps attract and retain the best talent, and encourages creativity and innovation. Businesses focused on expansion and high growth need to build strong and engaged teams around them.
Hive revolutionises measurement of employee engagement and helps to increase, motivation, happiness and productivity in the workplace. Instead of a large annual survey, Hive enables employees to submit anonymous feedback via weekly micro-surveys. The questions have been designed to draw measurable insight across a range of categories synonymous with engagement. Employees also have the opportunity to acknowledge, recognise, and celebrate their colleagues' positive behaviour and performance.
The team are looking to raise £150,000 from a range of crowd investors, angel investors, and Venture Capitalists via equity crowdfunding and co-investment platform, GrowthFunders. The investment opportunity will be open to suitably-qualified investors and is SEIS compliant which means that some investors may receive up to 78% tax relief.
Craig Peterson, CEO at GrowthCapitalVentures explained "People are the foundation of any business and a team who are fully-engaged, happy and productive, gives that business a competitive advantage. I know how important employee engagement is and the tools / software to maintain and encourage this is something every business owner and entrepreneur strives for, particularly as a business grows. Hive is a business which really resonates with me as a business owner and entrepreneur and we're delighted to be supporting the team with their crowdfunding campaign.
Visualsoft's Innovation Lab will allow them to spin out a number of new businesses over the coming years which will continue to create high quality jobs both in the North East and nationwide. It's fantastic to see a North East business having such a positive impact on growth, job creation and productivity in the UK workforce."
To find out more about Hive, visit their pitch page, now live on the GrowthFunders platform.