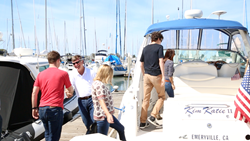 It's time. If you've been on the fence about renting your boat, you can feel secure knowing you are backed by BoatUS.
ALEXANDRIA, Va (PRWEB) September 01, 2015
In the sharing economy, who pays when something goes wrong? For boat owners considering renting out their vessel through Airbnb-like boat renting services, boat insurance has been a key concern. Today BoatUS announces a first of its kind boat rental insurance policy available for rentals through Boatbound, the nation's fastest growing boat rental marketplace. The new Peer-to-Peer Boat Rental Policy covers the rental period and is designed specifically to meet the needs of this new and growing market.
"There is a need for an innovative product from a trusted insurance provider to protect the interests of boat owners, renters, and the boating public," said BoatUS Assistant Vice President Ed Holownia. "Most recreational boat insurance policies don't provide coverage during a rental. For boats to become a viable part of the sharing economy, the insurance question had to be addressed."
Now three years old and with thousands of boats listed across the US, Boatbound has been the fastest-growing company in the boat sharing market. Boatbound's average renter is between 25 and 44 years old with five or more years of boating experience. "Boatbound is fundamentally changing boating," said Boatbound Founder Aaron Hall. "Finding a boat is now as easy as finding a hotel, and boat owners can share their boat when it's not in use to offset boat, slip, and maintenance costs turning their boats into assets."
With the new Peer-to-Peer Boat Rental Policy, BoatUS offers a seamless experience to renters and confidence to owners for rentals arranged through Boatbound. "It's time," added Holownia. "If you've been on the fence about renting your boat renting your boat, you can feel secure knowing you are backed by BoatUS."
Boat owners wishing to rent their boat through Boatbound must have an underlying recreational boat insurance policy. Those with BoatUS or Seaworthy Insurance Company policies will be eligible for a fast-track approval process. Once the boat owner signs up at Boatbound.co and gets approved, the Peer-to-Peer Boat Rental Policy provides primary coverage during each rental period. The cost of the policy is included in the fee owners pay Boatbound for each rental.
The Peer-to-Peer Boat Rental Policy is underwritten by Seaworthy Insurance Company (rated A+ by AM Best) and will pay up to the Actual Cash Value of the boat. The policy includes $300,000 liability coverage per person and up to $1 million total liability coverage per accident. Up to $854,400 in fuel spill coverage is also included as are $25,000 per person/per accident medical payments coverage, $100,000 in Uninsured boater coverage, and full salvage coverage up to the boat's actual cash value. Deductibles are based on boat value.
To learn more about the Peer-to-Peer Boat Rental Policy offered on boats rented through Boatbound, go to Seaworthyinsurance.com/peertopeer. To find out more about Boatbound, go to Boatbound.co.
###
About Boat Owners Association of The United States (BoatUS):
BoatUS is the nation¹s largest organization of recreational boaters with over a half million members. We are the boat owners' voice on Capitol Hill and fight for their rights. We help ensure a roadside breakdown doesn't end a boating or fishing trip before it begins, and on the water, we bring boaters safely back to the launch ramp or dock when their boat won't, day or night. The BoatUS Insurance Program gives boat owners the specialized coverage and superior service they need, and we help keep boaters safe and our waters clean with assistance from the non-profit BoatUS Foundation for Boating Safety and Clean Water. Visit BoatUS.com.
About Boatbound:
Boatbound, the nation's leading boat rental marketplace, gives the over 13 million registered boat owners a way to offset their ownership costs by renting their boat to pre-screened, qualified renters. Boatbound allows you to find the perfect boat at any price, across the US. Boatbound is free to join and has no monthly or membership fees. Visit Boatbound.co for more information.