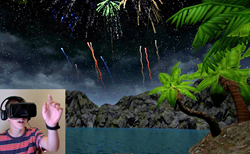 virtual reality will help children with special needs
Las Vegas, NV (PRWEB) September 02, 2015
"Journey to the Big Bear Festival" is not just a computer program for leisure; it's intended to act as a form of virtual reality therapy. VR Kids believes there are positive outcomes to be experienced when using their software such as relief from stress and anxiety, immediate happiness and joy, and positive mental/physical connections. "As a kid, I got excited thinking about how virtual reality could change the world; today through a culmination of my life's experiences and my passion for technology and helping children, I'm excited to say that 'Journey to the Big Bear Festival' and virtual reality will help children with special needs," said RJ Sampson, founder, president and CEO of VR Kids.
VR Kids' therapeutic virtual reality software has been designed to be used with the Oculus Rift head-mounted display technology. Using the Oculus platform allows VR Kids to present a truly immersive experience that draws upon multi-sensory elements which allow a user to interact with the virtual world just as he or she would in real life. With such intuitive technology, there is no learning curve which allows users to be immediately immersed in an interactive and fun adventure!
About VR Kids, Inc.: VR Kids, a non-profit organization based out of Las Vegas, Nevada, is dedicated to providing children, teens, and young adults free access to therapeutic virtual reality. Please visit VRKids.org for more information.