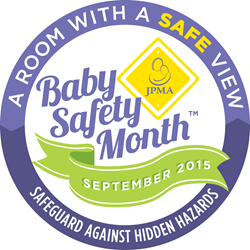 Mount Laurel, NJ (PRWEB) September 01, 2015
September is Baby Safety Month, sponsored annually by the Juvenile Products Manufacturers Association (JPMA). This year, JPMA is helping educate parents and caregivers on safeguarding against hidden hazards in the home through – A Room With A Safe View- Safeguard Against Hidden Hazards.
Some of the top hidden hazards for baby in the home are everyday items such as loose change on the coffee table, magnets on a refrigerator, and hot mugs. In fact, one of the leading causes for injury to young children is furniture tip-over. JPMA is helping to educate parents and caregivers to prevent these tragedies.
This year's Baby Safety Month campaign and the information on JPMA's consumer outlet, babysafetyzone.org, provide insight into creating the safest environment for children and giving more awareness about those hidden hazards in every room. Safeguarding against hidden hazards in your home goes beyond baby proofing.
Highlights of Baby Safety Month 2015 include:

A fun and interactive online game where the player can find the top 10 hidden hazards throughout our safety house.
Prize-A-Day Giveaways throughout the entire month through the JPMA Facebook page. From pacifiers to car seats, the prizes are incredible!
Weekly bulletins which include hidden hazard safety tips and great little tidbits for surviving parenthood.
Visit http://www.babysafetyzone.org to learn how to safeguard against hidden hazards. Be sure to check back often for new tips and daily prize giveaways every day throughout the month of September.
About Baby Safety Month
Baby Safety Month started in 1983 when JPMA initiated "Expectant Mother's Day." In 1986, it was extended to a week-long celebration, until 1991, when JPMA sponsored the first "Baby Safety Awareness Month." Since then, every September has been designated as Baby Safety Month.
About the Juvenile Products Manufacturers Association
The Juvenile Products Manufacturers Association is a national trade organization of more than 250 companies in the United States, Canada and Mexico. JPMA exists to advance the interests, growth and well-being of North American prenatal to preschool product manufacturers, importers and distributors marketing under their own brands to consumers. It does so through advocacy, public relations, information sharing, product performance certification and business development assistance conducted with appreciation for the needs of parents, children and retailers.
To find out more information about the JPMA certification program, the products certified and a complete listing of JPMA members, please visit http://www.jpma.org . Follow JPMA on Twitter @JPMA and connect with us on Facebook to learn about additional safety tips and JPMA initiatives.
# # #