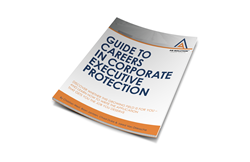 No aspiring EP professional should write a job application without having studied AS Solution's career guide first."
Bellevue, WA (PRWEB) September 03, 2015
AS Solution, one of the world's premiere providers of executive protection (EP) for major corporations and high net worth families, has published a new career guide for those who want to work in the field.
Available for download at http://careers.assolution.com/, the guide provides professional insight into what makes corporate EP different from other types of security jobs, sheds light on the training, experience and character traits that are most in demand, and gives dozens of practical tips on writing job applications that get results.
"Corporate EP is growing, and the industry is evolving fast," explains Christian West, founder and CEO of AS Solution. "Our business is becoming increasingly professionalized, and job applicants need to keep up. Soft skills are as important as hard skills these days, and you need way more than an average military or law enforcement background to get the best jobs."
The 38-page guide was authored by West and three of his senior managers – a team with combined experience of more than 60 years in corporate EP.
"We see thousands of job applications every year, and frankly speaking, many of them leave a lot to be desired," admits West. "So instead of complaining about it we decided to do something – and help applicants learn how to put their best foot forward. It helps them, it helps us, and we think it will help the entire industry and our clients."
Robert L. Oatman, CPP, author of several influential books on the subject, agrees. "The Guide To Careers in Corporate EP is a comprehensive and clearly written set of protocols," says Oatman. "This is not only a guide for the prospective EP specialist looking for employment in this field. It is also a document that reinforces the 'lessons learned' from those working in the field of corporate executive protection."
Jerry Heying, CPP, PPS, of the Executive Protection Institute concurs. "This is outstanding advice from an outstanding company," he says. "I have had the opportunity to get to know Christian West, Brian Jantzen, Chad Duke, and Jared Van Driessche and others in AS Solution over the last seven years and have seen their phenomenal growth up close and personal. There is a reason they have done so well, and that is their heart and dedication to the executive protection profession. The guide should be a 'must read' for everyone entering into the profession."
Brandon J. Delcamp of Executive Security International also has praise for the guide. "AS Solution's Guide to Careers in Corporate Executive Protection is a must-have tool for every individual seeking to enter the executive protection industry," he says, "and will be given to each ESI student to help them prepare for the opportunities ahead of them. Many employment seekers invest years garnering experience, education, and training, yet struggle in articulating and representing those skill sets through the cover letter, bio, resume and interviews. The Guide to Careers defines what is important to potential employers and helps candidates refine their understanding of what they are applying for so that they can better represent themselves and put their best foot forward throughout the hiring process."
For more background on the corporate executive protection industry, read AS Solution's latest blog, 6 trends that are changing careers in corporate executive protection.
For more information on AS Solution, please contact Kelly Brevik, kes(at)assolution(dot)com, telephone +1 (425) 296-3017, ext 100.
AS Solution provides a full spectrum of corporate and personal security services that includes executive protection, secure transportation, event security, estate security, anti-piracy security, embedded security as well as security training and consulting. Clients include major corporations, NGOs and high net worth individuals and families in the US, Europe, Asia and Africa. For more information, see http://www.assolution.com.