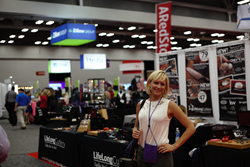 San Antonio, Tx (PRWEB) September 03, 2015
In August, Keller Williams Realty, held their annual conference, Mega Camp, in Austin, Texas. Agents came from all over the nation and internationally to experience this amazing conference that helps realtors increase their knowledge of the real estate market, network with other agents to establish referral contacts from all over nation, and to increase overall production with innovative marketing tips and techniques. Pam Rothe from San Antonio, TX, attended this week long seminar and will utilize the different skills and techniques she learned for her business and train her team on the new and upcoming real estate trends.
Pam is always looking for new ways to grow and connect with her customers with cutting-edge and state of the art technology and tools that Keller Williams offers to all its agents. She took advantage of all the educational seminars offered throughout the week and toured the vendor hallways that contributed to the convention, establishing numerous connections with different people and vendors in the real estate industry.
"I am thrilled to be a part of such a wonderful and motivating company! Mega Camp provides the best tools, training, panels of excellent agents from all over the nation and makes it such a fun experience. I'm energized to come back to work and utilize all I have learned and provide even better service for my clients." - Pam Rothe
About Keller Williams Realty, Inc.: An international real estate franchise company with more than 110,000 real estate agents, operating in more than 700 market centers across the globe. Each office is independently owned and operated. Keller Williams Realty is currently the largest residential real estate company in the United States. If you are looking to be a part of a company that cultivates educating and mentoring new agents into becoming the best they can be, contact Pam Rothe with The Rothe Group to learn more.
Pam specializes in residential sales, luxury homes, and investment properties. She has successfully helped homeowners sell their properties and helped countless buyers purchase their dream house. Pam brings over 10 years of marketing and research experience to play in helping you find and sell your home. Pam uses advanced tools that provide more in depth information than most agents are willing to use and believes that more knowledge helps you to make a more educated decision and get the most for your money. Pam is a Certified Negotiation Expert and her goal and focus is on her clients' complete satisfaction and negotiating the best deal for her clients. In fact, she works to get the job done so well, you will want to tell your friends and associates about it. That is why more than 50% of her business comes from repeat business and referrals! To reach Pam, you may call her at 210.861.7350 or email her at pamela_rothe(at)yahoo(dot)com.