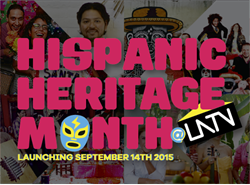 Los Angeles, CA (PRWEB) September 08, 2015
Coinciding with Hispanic Heritage Month, the campaign will feature a proliferation of new content spanning a broad spectrum of categories that all tie in to the "Life con acento" theme.
This new content will include short-form segments and vignettes that highlight the stories found on LATV Networks and its subsidiaries American Latino TV and LatiNation, and will live in both broadcast and digital platforms.
Rokamole, LATV's weekly alternative rock series, also gets into the mix with special HHM themed episodes that include in-studio drop-ins by today's hottest musicians, including Las Cafeteras, Quetzal, and La Santa Cecilia, plus many more.
On En Concierto, your front row ticket to the hottest musical concerts, LATV honors Hispanic Heritage Month with live performances by seminal music artists including La Chiva Gantinva, Systema Solar, and Sonora Dinamita, plus many more.
LATV's longest running, flagship show En La Zona, will honor Hispanic Heritage Month with a series of special edition that explore Latino culture and influence, including segments on leading Latino chefs such as Chef Lorena, the Latin American impact on dance, and a look inside the rise of Hispanic street artists.
LATV is the original, alternative, and only remaining Latino-owned TV network in the Hispanic television space. As a pioneer network, a trend-setting brand, an innovative content hub.LATV's fully-owned subsidiary, American Latino Syndication, produces and distributes "American Latino" and "LatiNation," two award-winning, Latino-themed TV programs that are broadcast on general market stations in over 100 cities nationwide.