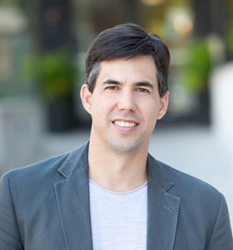 WICKENBURG, AZ (PRWEB) September 02, 2015
The Meadows recently announced that Dan Griffin, M.A., will join The Meadows as a Senior Fellow. He is an internationally recognized author, thought leader and expert on men's relationships, trauma, addiction and masculinity.
Dan's work and life is dedicated to exploring and redefining what it means to be a man in the 21st century. Dan is dedicated to helping men be better men by understanding the impact of the Man Rules on their lives and finding the success in their personal lives they are striving for in the professional lives. Griffin's newest book, A Man's Way through Relationships, is the first book written specifically to help men create healthy relationships while navigating the challenges of the "Man Rules™," those ideas men internalize at very young ages about how to be real boys and men.
Griffin has worked in the mental health and addictions field for more than 20 years. He is the author of A Man's Way through the Twelve Steps, the first trauma-informed book to take a holistic look at men's sobriety. He also co-authored Helping Men Recover, the first comprehensive gender-responsive and trauma-informed curriculum for addiction and mental health professionals. He earned a Master's degree in Sociology from the University of Kansas where his graduate work was the first qualitative study centered on the social construction of masculinity in the culture of Alcoholics Anonymous.
Griffin grew up in the DC area and lives in Minnesota with his wife and daughter. He has been in long-term recovery from addiction since he graduated college in May of 1994.
He says that being in The Meadows environment, which normalizes the experience and treatment of trauma, is a refreshing and powerful experience:
"It is incredibly humbling to find myself joining a group of distinguished experts comprised of many of my heroes and those upon whose shoulders I have been standing during my own career. I have an enormous amount of respect for The Meadows commitment to dealing with addiction and trauma together and for the leadership it has shown for 30 years in raising awareness about the almost epidemic-levels of trauma in our communities.
I think my take on men and masculinity as it overlaps with trauma and recovery is a fairly unique approach and I think that there will be a great synergy between this approach and The Meadows model, by looking through the lens of gender in a thorough and nuanced way."
Sean Walsh, CEO of The Meadows, says he's thrilled to add Griffin's perspective to the roster of industry-leading trauma and addiction experts:
"We are thrilled to have Dan join our team to help us better treat the men we are privileged to work with. Dan's passion and drive to better understand and therefore better treat men is contagious and inspiring. I have no doubt our male patients, the families who love them, and our entire team will benefit from our partnership with Dan."
Additional Meadows' Senior Fellows include: Pia Mellody, John Bradshaw, Peter Levine, Bessel van der Kolk, Shelley Uram, Claudia Black, Patrick Carnes, and Alexandra Katehakis. Each Meadows Senior Fellow is involved in world-wide practice and research in their area of expertise - lecturing patients on clinical works, publishing works in numerous professional publications, and providing their teachings and expertise to the patients and therapeutic staff at The Meadows.
ABOUT THE MEADOWS
The Meadows is an industry leader in treating trauma and addiction through its inpatient and workshop programs. The Meadows helps change lives through the Meadows Model, 12-step practices, and the holistic healing of mind, body, and spirit. To learn more about The Meadows, contact us at (800) 244-4949 or visit http://www.themeadows.com.