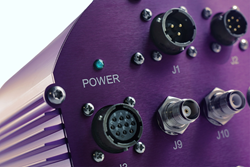 Bolingbrook, Illinois (PRWEB) September 03, 2015
Wi Tronix, LLC®, a provider of remote monitoring products and services for the rail, marine and mining industries, releases Wi-Power III, an intelligent power supply that provides customers improved asset utilization, availability and reliability.
The iconic 'purple box', the Wireless Processing Unit (Wi-PU™), remotely monitors and reports critical system information on mobile assets. The optional integrated Wi-Power III module provides the following intelligent power management benefits:

Improved asset utilization identifying potential no starts
Continuous battery health monitoring and low battery voltage alerts
Tamper detection with time and location alerting
Increased system reliability and availability with enhanced power monitoring and conditioning
Wi-Power III can support a railroad's corporate strategy of reducing unexpected downtime and further improve service reliability to their customers.
To date, Wi-Power III has been installed on more than 600 locomotives and logged over 1 million hours in revenue service. Overall, the life of a locomotive can be extended through the real-time monitoring functions enabled by the Wi-PU and Wi-Power III.
About Wi-Tronix, LLC
Wi-Tronix is a leading provider of remote monitoring solutions for high-value mobile assets used in the rail, marine and mining markets, and in other commercial and industrial operations. Since 2004 Wi-Tronix has been working with businesses to improve the operational efficiency, service reliability, and safety of their high-value assets. Wi-Tronix corporate headquarters are located in Bolingbrook, Ill. For more information, visit wi-tronix.com or follow Wi-Tronix on Twitter at @WiTronix.
For further information contact:
Chad Jasmin
Email: media(at)wi-tronix.com
888-WITRONIX ext. 307