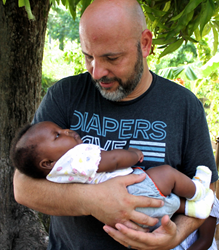 Lawrenceville, Georgia (PRWEB) September 03, 2015
DriButts, a non-profit organization dedicated to helping control the spread of disease in Haiti, has partnered with Slingshot® Product Development Group to manufacture a long-lasting reusable diaper for warm weather climates where there is no electricity or running water. Michael Wahl with DriButts plans to bring 600 DriButts Diapers to rural areas of Haiti during a trip scheduled for September 9-14, 2015.
"Infants and toddlers in underdeveloped villages in Haiti don't have diapers, so they poop openly in the house," says Wahl, lead storyteller at DriButts, a one-year old organization based in Douglasville, GA. "The fecal matter contaminates everything in the living space which leads to the rampant spread of diseases like dysentery, cholera, typhus fever and typhoid.
"The solution is the creation of a long-wearing, durable diaper. Working with Slingshot we've found a way to affordably produce a diaper with a super absorbent bamboo cloth liner that has natural anti-microbial properties. The diaper has a two-year lifespan and can be used from infancy through the age of two. This diaper can be cleaned in a bucket with soap and water and will dry on a clothes line in about 15 minutes."
Before developing the DriButts Diaper, Wahl and his wife Starla sewed more than 700 diapers at their kitchen table and shipped them to Haiti. At the same time Wahl started designing a long-wearing diaper, but the production costs were very high.
"Michael approached us to be part of the solution for this epidemic of unsanitary conditions in Haiti," says Joseph Pruitt, director of manufacturing innovation with Slingshot Product Development Group. "We took the task on pro bono to enhance their design and work with our supply chain to source materials for the diaper. Manufacturing started in late July of this year and now we're finishing up the first 1,000 diapers --- 600 of which will travel with Michael immediately to Haiti.
"Because many of the illnesses associated with fecal matter in the home are preventable, this diaper, and the overall DriButts effort, is literally helping to save lives."
According to Wahl, the Slingshot team identified manufacturing options that cut the cost in half while enhancing the diaper design. "That's an incredible achievement when you think that every diaper will last for at least two years," says Wahl.
"Slingshot stepped up and took this task on as a partnership, not as a project. They've surpassed our expectations and given us a way to help solve the fecal infant problem in Haiti. More than that, now they're working with us long-term to develop the next generation of this diaper that will be used to trap and retain urine in diapers. This will advance the health efforts not only in Haiti but in other developing countries in the world that we'd like to assist."
The September humanitarian effort in Haiti will take place within 50 miles of Port-Au-Prince during Wahl's sixth visit to the country this year and his 20th visit in the past three years. He will work with local village leaders and pastors to distribute the diapers and train mothers on how to use and clean them.
For more details on the non-profit organizations efforts and to sponsors diapers for children in Haiti, visit http://www.Dributts.com. For information on Slingshot, a full-service product innovation, development and manufacturing firm, visit http://www.slingshotpdg.com.
###