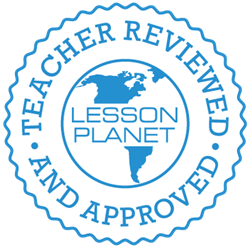 Teachers need fast access to vetted OER ... now more than ever. This partnership comes at a great time."
Santa Barbara, CA (PRWEB) September 04, 2015
Lesson Planet, for 15 years a premier source for curated, teacher-reviewed, and rated online lesson planning resources, provides its industry-standard seal of approval to curriculum that K-12 educators can find through Teachwise Inspire, a new subscription service launched in partnership with Frontline Technologies.
Lesson Planet has provided 50,000 Open Educational Resource (OER) reviews bearing its seal of approval for educators to access via Teachwise Inspire in 2015. More will be added next year.
Before they assign the seal of approval to any OER, Lesson Planet's credentialed teachers find and assess every resource by hand, in a process that involves the following:

Data-driven curation of curriculum teachers need most (STEAM, SpEd, trending topics);
Ratings on a five-star scale according to rigorous educational rubrics;
Custom reviews with pros & cons and teaching tips;
Common Core State Standards alignment.
New Media Consortium's 2014 Horizon Report K-12 Edition called "increasing focus on open education resources" a mid-range trend driving educational technology adoption in schools within three to five years. The report noted, "OER are growing in breadth and quality, as is the use of these materials in classrooms, networks and school communities worldwide." Teachwise Inspire offers more ready access to appropriate, high quality OER for K-12 teachers.
"When two organizations with such distinctive strengths come together, the result is more than the sum of its parts," noted Wendy LaDuke, long-time EdTech champion and Group Publisher of eSchool Media. "Lesson Planet is made up of experienced, credentialed teachers and curriculum experts, so when they stamp a resource with their seal of approval, educators can trust that it really means something. Frontline's extensive services for teachers, schools and districts are responsive, insightful and relevant. Teachers need fast access to vetted OER to support instruction now more than ever. This partnership comes at a great time."
Education Week reported (May 19, 2015) on a rare bipartisan Senate show of support for a significant trend in education. Senators Orrin Hatch (R) from Utah, the state leading the country in advocating for and implementing OER as a source for high quality curriculum, and Wisconsin's Tammy Baldwin (D) co-authored an amendment to the Elementary and Secondary Education Act (No Child Left Behind) that promotes the use of OER as a way "to reduce costs and provide teachers with content specifically tailored to their needs."
Lesson Planet founder and CEO Jim Hurley added, "We're thrilled to partner with Frontline Technologies on Teachwise Inspire to connect more teachers with quality OER. We've been curating and reviewing online curriculum since 1999 and we're excited to have our credentialed teacher reviews and seal of approval integrated into Frontline's new platform. Most of our team is made up of real classroom teachers, so we know from personal experience how much teachers have on their plates, and we strive to make their lives easier and instruction more effective."
About Lesson Planet
Founded by educators in 1999, Lesson Planet has been at the forefront of Open Educational Resource (OER) curation, review and search technology in support of K-12 teachers for more than 15 years. The company boasts over a dozen credentialed-teacher curriculum experts on staff who curate and align-to-standards top quality lesson plans, units, videos, apps, activities, templates, printables and worksheets for teachers. Each resource is rated and reviewed by hand using rigorous rubrics based on current research and best practices. Lesson Planet's award-winning search and curriculum management tools help Member educators find resources by grade, subject, Common Core standards and more, as well as to organize, manage and store them on the site. Schools and districts can offer teachers access to a virtual curriculum department through Lesson Planet's cost-effective and easy-to-use School Edition solution.
About Teachwise and Teachwise Inspire
Teachwise Inspire provides access to unlimited, on-demand classroom resources and professional development. It's the first subscription service for educators that provides access to tens of thousands of downloadable resources with common core alignment and detailed teacher reviews, personal development courses and an art gallery. The instructional content is curated in partnership with Lesson Planet and vetted by their rigorous review process. Developed by Frontline Technologies, a leading provider of K-12 human resources solutions, Teachwise Inspire was created after feedback from educators on the need for affordable access to reliable resources. It builds on the success of Teachwise.com, a platform for teachers to buy and sell original classroom resources.
About Frontline Technologies
Frontline Technologies provides web-based tools for K-12 education, empowering over 6,000 school districts and millions of educators nationwide to advance student growth. With AppliTrack, the leading K-12 system for recruiting, screening and employee file management, districts can recruit and hire the right fit for their district. With Aesop, the leading automated substitute placement and absence management system, districts can track teacher absences and ensure the right person is in the classroom, whether it's the full-time teacher or a substitute. And with VeriTime, a time and attendance management system, districts can improve accuracy and reduce labor costs by electronically capturing and calculating employee time. Frontline also provides innovative tools for K-12 educators, including Jobulator, an automatic job-notification service for substitute teachers; K12JobSpot, the nation's leading educational job board; and Teachwise, an online marketplace for educators to buy and sell learning materials.