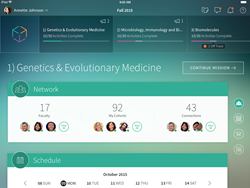 "The ability to partner the best of pedagogy with cutting-edge technology has created an exciting platform that will change how education is delivered."
(PRWEB) September 03, 2015
Mobile app development firm Robots and Pencils has supported the reimagination of post-secondary education with the creation of TEx, the Total Educational Experience. TEx is a first-of-its-kind mobile learning platform that offers a highly personalized education experience to students with the goal of improving student outcomes by providing an engaging environment that students want to interact with.
TEx is the brainchild of the University of Texas System's Institute for Transformational Learning. Knowing TEx would be competing against consumer-grade apps for students' attention, the ITL engaged Robots and Pencils because of their experience and expertise in transforming industries through mobile innovation.
"In creating software, we take a human-to-human approach rather than a B2B or B2C approach. This allows us to use our expertise across industry verticals," said Phil Komarny, CEO Education at Robots and Pencils. "The ability to partner the best of pedagogy with cutting-edge technology has created an exciting platform that will change how education is delivered."
For the past year, the team at Robots and Pencils has, in collaboration with the ITL, designed and created the custom learning platform that not only gives students the ability to access all course content on the iPad, but also allows faculty and coaches to track students' progress in real-time. This window into a student's pace and engagement provides a unique opportunity for professors to intervene and support a student who may be falling behind.
In addition to allowing faculty to track progress from day one, TEx has also made it more convenient for students to access resources, connect with fellow students, and interact with course facilitators. Students are able to access course content and have the ability to work on assignments while offline, an improvement over web-based student learning environments.
Available for the first time this fall, freshmen students enrolled in the biomedical sciences degree program at the University of Texas Rio Grande Valley will be piloting TEx, officially ditching traditional textbooks for the iPad.
About Robots and Pencils Inc.
Robots and Pencils is a mobile strategy and app development firm known for its top-ranking consumer apps and transformative enterprise apps. Started in 2009, Robots and Pencils has created more than 250 apps used by over 77 million people worldwide, and in 2014 was named the 34th fastest growing technology company in North America by Deloitte.
Media Contact
Jamie Reid, Communications Director
jamie.reid@robotsandpencils.com
403-608-6535