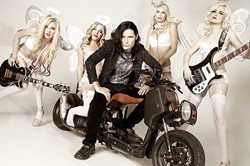 they were there for a secret mission to destroy the private world we created
Los Angeles, CA (PRWEB) September 04, 2015
One of the world's favorite actors and musicians has been the victim of negativity from the press. Corey Feldman is loved by all for his iconic roles in blockbuster movies such as Gremlins, The Goonies, and Stand By Me but now Feldman is going public that he feels betrayed by a media outlet.
Feldman has received international exposure for his multi-tiered 360 management, development, and production entity called "Corey's Angels." The company is known for creating an environment where women who have endured abuse and torture throughout their lives, could live in an atmosphere free of judgement and criticism, while feeling appreciated and beautiful.
In 2011, Corey's Angels began hosting exclusive events at the Feldman mansion. The events sold out almost instantly and were packed with gorgeous women, VIP clients, and a wide range of celebrities. According to a statement posted by Corey on his website (CoreyFeldman.net) two years ago, he agreed to allow a member of the press to access to his very private world, and "it turned out that they were there for a secret mission to destroy the private world we created" and the "many brutal attacks in the media' caused the special world he created to be 'severely damaged.'"
The damage that was done has caused the events that followed to be "lackluster," and now Feldman has eliminated this portion of his company. Despite all of this, Feldman is excited for the recent successes of Corey's Angels, including the ratings spike on their episode of ABC's Celebrity Wife Swap; the national tour of the all Angel band; the new Corey's Angels TV series; and the upcoming double CD album "Angelic 2 the Core."
Corey is known for being an optimist and always doing his best to leave everything on a positive note, and because of that he wants everyone to remember his events by watching this video of his star studded birthday bash https://www.youtube.com/watch?v=mTFPErD72P4. For media inquiries, contact Kerry Knight of Nati Celebrity Services at KerryKnightPR(at)gmail.com.
###
http://CoreyFeldman.net
https://twitter.com/Corey_Feldman
https://www.facebook.com/CoreyFeldmanOfficial
https://www.youtube.com/channel/UCrot0DHw5FV6O5XlH236nIQ