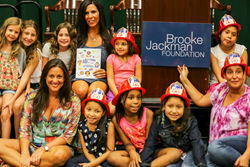 New York, NY (PRWEB) September 03, 2015
To commemorate the 14th anniversary of 9/11, the Brooke Jackman Foundation (BJF), a children's literacy organization that has donated more than 250,000 books to children and families in need since its founding in 2001, will host the 6th Annual BJF Read-a-thon on Saturday, September 12, from 12 – 1:30 p.m. at Barnes & Noble Tribeca. Featuring special guest readers Screen Actors Guild Foundation BookPALS (Performing Artists for Literacy in Schools) Fatima Ptacek (voice of Dora the Explorer) and NYC Weatherman Mr. G (WPIX-11), along with NYC Fire Commissioner Daniel Nigro, this free public event for children and families will celebrate the positive, transformative power of literacy.
These special guests will be joined by some of New York's Bravest from the FDNY and celebrated children's author Stephanie Calmenson. Broadway actors who volunteer with the SAG Foundation BookPALS program will also be on hand to lead theatrical readings, including Chad Kimball, Seanmichael Rodgers and Bobby Nathaniel Anderson.
"Our annual Read-a-thon brings the children from all of our literacy programs together, and it is one of my favorite events of the year," said Erin Jackman, executive director of the Foundation. "It's an amazing and rewarding way to honor my sister, Brooke, and those who lost their lives on September 11th."
"We are delighted to be working with the Brooke Jackman Foundation once again in providing critical literacy programming to New York City children and families," said Cyd Wilson, executive director of the SAG Foundation. "And our BookPALS are honored to be reading side by side with New York City's bravest from the FDNY to remember Brooke Jackman and the thousands we lost on 9/11."
The 6th Annual BJF Read-a-thon will take place on Saturday, September 12, from 12– 1:30 p.m. at Barnes & Noble Tribeca (97 Warren St). For more information, visit brookejackmanfoundation.org.
About the Brooke Jackman Foundation
The Brooke Jackman Foundation was created in 2001 to honor Brooke Jackman, a bright and compassionate 23-year-old who was killed in the 9/11 terrorist attacks before achieving her dream of becoming a social worker. Brooke was an avid reader, and her passion and commitment to literacy and helping children spurred the Jackman family to create BJF as her living legacy – turning tragedy and despair into hope for a better world. Since 2001, the Brooke Jackman Foundation has donated over 250,000 books and over 30,000 Brooke Packs, backpacks filled with books and school supplies, to children and families in need. BJF has established four libraries, as well as a number of after-school literacy programs, in all five boroughs, including homeless shelters and Family Justice Centers for victims of domestic violence and crime in Brooklyn, Queens and the Bronx. The annual September Brooke Jackman Foundation Read-a-thon celebrates the resiliency of New York and its children. Visit http://www.brookejackmanfoundation.org.