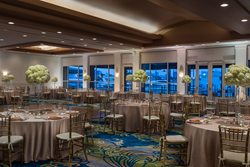 Our new Panorama Ballroom signifies our ongoing commitment to outstanding guest experiences.
FORT LAUDERDALE, Fla (PRWEB) September 03, 2015
Hyatt Regency Pier Sixty-Six in Fort Lauderdale, one of Fort Lauderdale's most prominent resort destinations with stylish waterfront rooms, five on-site dining spots, three pools and spa, has unveiled its newly renovated, luxurious Panorama Ballroom. The waterfront event space complements the property's resort-style amenities, contemporary décor and exceptional service as the ideal venue for weddings, corporate meetings and special occasions.
The 5,900-square-foot Panorama Ballroom now features several upgrades including new carpeting, lighting, furnishings and a fresh color palette. Throughout the space, a maritime-inspired carpet with rich tones of blues and greens creates a festive atmosphere. Modern lighting in the reception area features a potpourri of hanging glass globes, while more elegant light boxes with crystal spikes adorn the event spaces as part of the transformation. New furnishings in the lobby and reception areas add a welcoming touch, and a warm color palette of earth tones completes the look from floor to ceiling.
"As one of Fort Lauderdale's most prominent destinations, Hyatt Regency Pier Sixty-Six provides top-notch accommodations, dining and banquet services for any social occasion or business meeting," said Marcos Borras, General Manager at Hyatt Regency Pier Sixty-Six. "Our new Panorama Ballroom signifies our ongoing commitment to outstanding guest experiences."
The Panorama Ballroom is situated at the Pier 66 Marina along the intracoastal waterways. The detached venue is divisible into four sections and includes an elegant foyer, banquet hall, reception area and classroom, plus a large, covered outdoor terrace that overlooks stunning water views inclusive of multi-million dollar yachts and downtown Fort Lauderdale.
Hyatt Regency Pier Sixty-Six offers several other stylish venues and banquet rooms, including the spectacular 3,000-square-foot Pier Top, which was recently renovated and features unparalleled 360-degree views of the Fort Lauderdale skyline and coastline through floor to ceiling windows. The hotel provides an on-site event planning staff available to help plan every detail.
To plan and book a meeting, call the sales office at 954-728-3535, or for more information, visit http://www.pier66.hyatt.com.
About Hyatt Regency Pier Sixty-Six
Hyatt Regency Pier Sixty-Six is a vibrant, luxury 384 room and suite hotel in Fort Lauderdale renowned for its dazzling views, resort-style amenities and numerous on-site activities. Set amidst 22 acres of tropical landscaping with majestic palms at a world-class marina, the landmark hotel provides the ideal getaway in the yachting capital of the world. Guests can enjoy five delicious dining experiences from Pelican Landing to Grille 66 & Bar and more. The location offers boundless recreation on land and at sea, from deluxe spa treatments at Spa 66, Park 66 for family fun games to boat rentals and fishing charters and an inviting outdoor courtyard featuring three pools and cascading waterfalls. Adjacent to the Port Everglades cruise terminal and convention center, the contemporary resort-style hotel is ideally situated to explore the best of Fort Lauderdale on foot or by car, trolley or water taxi. There are amazing golf courses nearby, along with professional sports, shopping, entertainment, nightlife and spectacular beaches. For reservations, call 954-525-6666 or visit http://www.pier66.hyatt.com.