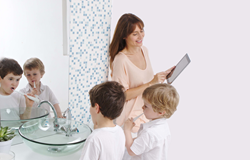 NEW YORK CITY, USA and PARIS, FRANCE (PRWEB) September 04, 2015
Children who used the Kolibree sonic toothbrush with the Go Pirate game on the Kolibree app reduced plaque more effectively than those who brushed with a manual or rotary electric toothbrush, according to an informal pilot study involving children between the ages of 5 and 14.
The study, completed in June 2015, was conducted by dentist Holly Hasegawa, DDS, who also holds a Masters Degree in Biomedical Engineering from the University of Texas in San Antonio. Dr. Hasegawa is founder of smart-oralcare.com, a web initiative that assists in product research and scientific studies, promoting smart ways to improve patient engagement and provide value-added services for dental practices. She is also a member of Kolibree's dental advisory board.
Kolibree, known as "the smart oral care company," introduced the first Bluetooth-connected sonic toothbrush with 3D motion sensors, using a mobile game to capture data about a child's tooth brushing habits and effectiveness. Parents can monitor their children's brushing in real time or view later on an IOS dashboard. This information can be shared with their dentist to begin a personalized discussion about improving tooth brushing habits for better overall health.
"The initial study showed that Kolibree has created a way to get children to want to brush their teeth and actually brush better," said Dr. Hasegawa. Most dentists recommend that people brush their teeth for a full two minutes, twice a day. In fact, the average person, according to Dr. Hasegawa, brushes for only 49 seconds. This pilot study concluded that Kolibree seems to engage children to complete a full two minutes of brushing without coaxing, and seems to aid them to reach areas of their mouth that they might not otherwise brush.
Dentists have been instrumental in Kolibree's development from the start, helping to design the lightweight (less than four ounces) toothbrush with an ergonomically designed grip to comfortably fit the hands of young children, older adults with arthritis and everyone in between. The slim brush head can easily access hard-to-reach areas of the mouth, and the gentle bristles gently attack plaque without "overbrushing" that can cause gum damage.
The Game
Go Pirate, Kolibree's flagship game for children, races a pirate toward a chest filled with treasure, with game coins rewarding proper brushing along the way.
The Kolibree smart toothbrush with proprietary 3D motion sensors charges wirelessly, connects via Bluetooth, and allows parents to set up a leader board of multiple users, encouraging friendly competition toward better oral care. Parents can review the family dashboard at their convenience. The free Kolibree app is available from the App Store and Google Play.
Where to Buy
Kolibree's smart toothbrush with 3D motion sensors is available from kolibree.com, amazon.com and Hammacher Schlemmer (hammacher.com).
About Kolibree
Kolibree, the smart oral care company, is dedicated to innovation of connected solutions. Kolibree's flagship product, the world's first connected electric toothbrush with 3D motion sensors, uses proprietary technology to create an interactive tooth brushing experience that motivates children and adults, and provides real-time feedback in an effort to improve oral care and prevent tooth decay and gum disease. Kolibree has offices in New York, Paris and Hong Kong. Visit kolibree.com, twitter.com/kolibree, facebook.com/sharekolibree, instagram.com/sharekolibree and pinterest.com/sharekolibree.