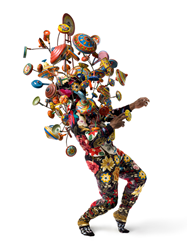 My work here will be like nothing I've ever done, a brand new idea. It will be about change and about being proactive. -Nick Cave
Shreveport, LA (PRWEB) September 03, 2015
Louisiana is no stranger to the colorful and the outrageous, whether it is embodied by the celebration of Mardi Gras or the spicy local cuisine. It's no wonder that Soundsuit artist Nick Cave thinks the northwest corner of this flamboyant state is the perfect place to bring his elaborate, symbolic and engaging art.
Nick Cave refers to himself as "an artist with a responsibility." His work is grounded in civic consciousness. His Soundsuit art is exhibited at the Smithsonian Museum of Modern Art, Crystal Bridges Museum, the Trapholt Museum in Denmark and he works around the world in London, Paris, China, Jerusalem and Australia. His current exhibition, "Here Hear" at the Cranbrook Museum near Detroit, is creating social change as Detroit discovers Detroit.
But why Shreveport, and why now?
"I like the neighborhood in which I will work in Shreveport," said Mr. Cave. "It's a nine-block area called Shreveport Common that is completely uncommon because of its amazing quirks and diversity. My work here will be like nothing I've ever done, a brand new idea. It will be about change and about being proactive. I hope that it will be the mortar that unifies this neighborhood and that helps the rest of the world recognize who is here and see how we value and recognize that they matter."
Shreveport Common was named the 2015 National Development Council's #1 Community Development Project in the Nation. Nick Cave is coming to Shreveport Common as an artist-in-residency with The Shreveport Regional Arts Council to work with residents in the care of social service organizations within Shreveport Common. Over an eight-month period, Mr. Cave will work alongside local artists, choreographers, dancers, musicians, spoken word artists and filmmakers to engage the social service residents to weave and construct elaborately beaded blankets that symbolize their "hidden stories," the ones seldom heard in our nation's disenfranchised communities.
Mr. Cave's work in Shreveport will culminate with a performance at the Shreveport Memorial Municipal Auditorium on Sunday, March 20, 2016.
People throughout the Shreveport community will be encouraged to take part in the Nick Cave experience by participating in fun, public "Bead-a-Thons" to help string beads for blankets to be used in the March 20 performance. They will also have the opportunity to spontaneously experience Nick Cave "INvasions" on Shreveport street corners and at local landmarks. These INvasions are often a part of the Nick Cave "Soundsuit" experience and have been performed in locations including Grand Central Station, Detroit and Denver.
Mr. Cave's Artist-in-Residency program in Shreveport and the finale performance are funded, in part, through a grant award from the National Endowment for the Arts to the Shreveport Regional Arts Council.
To find out more about #NickCaveBlanketsShreveport, the local artists with whom he will work and the Shreveport Common social organizations that he will impact, visit the Shreveport Regional Arts Council's website at http://www.shrevearts.org.