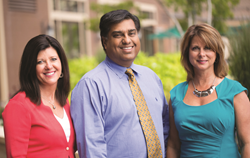 We are honored and delighted to be included in Seattle Study Club's list of top-character companies...
Anacortes, Wash. (PRWEB) September 09, 2015
Productive Dentist Academy, an award-winning dental consulting and marketing company, has joined Seattle Study Club, Inc. to offer dental specialists and general dentists new strategies to strengthen their practices and increase effectiveness.
Productive Dentist Academy was founded over a decade ago offering general dentistry consulting and dental marketing which incorporates ideal strategies for specialists looking to improve relationships with referring dentists and gain exposure to direct to consumer marketing strategies, tools, and designs.
Seattle Study Club founder Dr. Michael Cohen says, "Throughout the years we've prided ourselves on supporting members to cultivate a thriving comprehensive clinical practice. A large part of this success has come through aligning ourselves with quality companies and speakers to support Seattle Study Club members. Adding Productive Dentist Academy to our list of quality companies will help our members strengthen relationships and gain exposure to new patients."
Vicki McManus adds, "We are honored and delighted to be included in Seattle Study Club's list of top-character companies geared at lifting SSC members to their best and highest abilities for the sake of their practices and patients."
Productive Dentist Academy is offering innovative solutions for Seattle Study Club members looking to strengthen referral relationships and increase direct to consumer dental marketing. Email diane(at)productivedentist.com or call 800-757-6077 ext. 20 to learn more.
About Productive Dentist Academy
Named one of America's fastest-growing private companies by Inc. Magazine in 2012, 2013 and 2014, Productive Dentist Academy got its start in 2004 and has since gone on to provide dental marketing, consulting services, and production-enhancing seminars nationwide. It is based in Washington State and consists of a team of consultants in the areas of business development, hygiene, public relations, dental marketing, insurance/PPO negotiation, dental specialists, and other major fields of dentistry. To date, more than 1,200 practices have benefited from the resources, consultants, services and courses of the Academy. This number continues to grow. The Academy is owned by Dr. Bruce B. Baird (Founder and President) and Vicki McManus (Co-Founder and CEO).
###