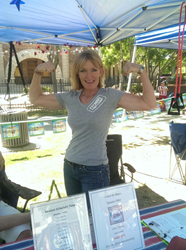 I want FBBC to be a leader in giving back to our community.
Hanford, Calif. (PRWEB) September 09, 2015
Owner Karie Donovan will host a Grand Opening Ceremony on September 26, 2015 from 11 am – 2 pm at 330 East 4th street, Hanford, Calif. 93230. The event will feature music, booths, raffle prizes, and "mini" boot camp demonstrations.
Fit Body Boot Camp is the world's fastest growing and most popular indoor fitness boot camp brand, with hundreds of locations worldwide. The boot camp's unique brand of fitness combines individualized personal training from licensed professionals, clinically proven Afterburn workouts, and nutritional guidance to guarantee weight loss results.
"I want FBBC to be a leader in giving back to our community," said Donovan, "I am thrilled to be donating the proceeds from our Grand Opening fund raiser to Valley Christian Home, a non-profit assisted living that has provided a helping hand in a Christian atmosphere to our elderly since 1974."
Ms. Donovan has always demonstrated a passion for helping those in need. During her 25 years of work with Sierra Vista Child and Family Services, she assisted children with disabilities, taught physical education, and led the Summer Olympics program. Hoping to expand her work to include personal training, she received her certification with the International Sports Sciences Association (ISSA).
"Through my years of experience, I have learned that people's behaviors are like an iceberg," she said, "We only see what is above the surface (poor eating habits, lack of motivation, etc.), but we need to look below the surface to see what is causing these behaviors. I love getting to know my clients on a personal level and helping them to take charge of their lives and to know how much I truly care about them."
The booths at the Grand Opening will offer massage certificates from Heavenly Touch Massage School, cosmetics from Younique, organic gift baskets from Grocery Outlet, gifts from Good Seed Organics, protein shakes and power bars from Vitamin World, and gifts from Nutri Shoppe. The event will host a number of other vendors such as Premier Jewelry, Jamba Juice, and The Dog Sitter. The Pet Haven will be on hand with some adoptable friends.
There will also be a raffle for free boot camp memberships and prizes from various additional businesses. For example, Hooligan's Women's Roller Derby will donate Roller Derby tickets to their home games.
Ms. Donovan hopes to use the proceeds from the event to enhance the activities department at Valley Christian Home, which will benefit all residents.
About Hanford Fit Body Boot Camp:
Hanford Fit Body Boot Camp is a part of the Fit Body Boot Camp family of indoor fitness boot camps, whose global goal is to engage 20% of the world's population in a healthy and fit lifestyle by the year 2020. Hanford Fit Body Boot Camp is owned and operated by Karie Donovan. Donovan is committed to helping members of the Hanford community set and accomplish their own health and fitness goals.
For more information about Hanford Fit Body Boot Camp, please call:
(559) 461-7422
Visit their website at:
http://www.fitbodybootcamp.com/hanfordfitnessbootcamp/
Or their Facebook page at:
https://www.facebook.com/pages/Hanford-Fit-Body-Boot-Camp/762834373772470