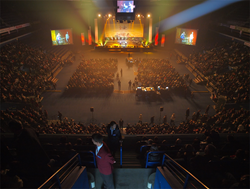 Everyone who attends this Festival of Life will be uplifted and changed by the message of Jesus Christ.
(PRWEB UK) 7 September 2015
On Friday 11 and Saturday 12 September, David Hathaway will hold a 'Festival of Life' in Bratislava, Slovakia; a two day celebration of faith in Christ Jesus which is expected to draw thousands from across Slovakia and neighbouring Czech Republic, Hungary, Austria and Belarus.
"This event is especially important to me. Over 40 years ago I was arrested and imprisoned for Bible smuggling in what was, at the time, known as Czechoslovakia. I spent a year in a communist prison, before being released by Harold Wilson. Since my release I have been back many times to minister, but this will be the first time I will have held such a large event in Slovakia. I believe that everyone who attends will be uplifted and changed by the message of Jesus Christ," said David Hathaway.
On the opening night David will be speaking to an invited audience of politicians, businessmen and religious leaders at the The Clarissine Church, (Kostol Klarisiek) - those who, when God changes them, can change a whole nation. Then on Saturday 12 September there will be an all-ages programme of activities at the Expo Arena starting at 09.00 and finishing at 21.00. This will include a special message for the people of Slovakia by David Hathaway starting at 17.00.
Since 2008 David Hathaway has held these Festival of Life celebrations in Estonia, Latvia, Lithuania and Poland. Each time tens of thousands have attended. On the first night of each event a special service is held for an invited audience of Government and Officials in a either a church or opera house. Then on the following day the Festival is held in either a large arena or, as in Poland, the main park in Katowice, and an aviation museum in Krakow.
What: Festival of Life with David Hathaway at The Clarissine Church and Expo Arena, Bratislava
Where: Hala C, Expo Arena, Bratislava
When: Saturday 12 September 09.00-21.00. Main service starts at 17.00
Entry is free (http://milujemsvojemesto.sk)
About David Hathaway:
David Hathaway: Founder and President of Eurovision Mission to Europe, Editorial Director of Prophetic Vision magazine, is a British Evangelist who has ministered worldwide for over 60 years. After 11 years as a full-time pastor and evangelist in Britain, David's ministry to Russia and Europe began in 1961 when he organised the first ever expedition to Jerusalem by road, through the Iron Curtain countries. Out of this experience, David began smuggling Bibles into Russia and Eastern Europe until, in 1972, he was arrested, imprisoned and tortured in Czechoslovakia. After serving just one year in prison, David was released by Prime Minister Harold Wilson. David continued to go into the underground churches to preach until eventually, in the 1980s, he began to openly hold services and conferences in the communist countries; this grew and developed throughout the 1990s and early 2000s.
Today, 2015, David's ministry is focused on providing assistance both spiritually and materially to the Russian Holocaust survivors in Israel, and to the former Soviet satellite countries.
RELATED LINKS: http://www.eurovision.org.uk