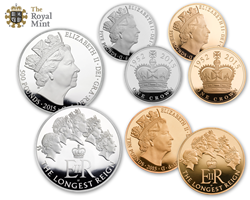 "Except for unofficial souvenirs struck for Queen Victoria in 1897, there has never been an official coin produced to mark a monarch becoming the longest reigning king or queen in Britain" - Shane Bissett, The Royal Mint's Director of Commemorative Coins
Minneapolis, MN (PRWEB) September 08, 2015
Tomorrow, the Queen of the United Kingdom will become the longest ever reigning monarch in British history—as well as becoming the longest reigning queen ever. On September 9, 2015, Queen Elizabeth II surpasses the record set by her great-great-grandmother Queen Victoria. Victoria reigned for a total of 23,226 days. To mark this historic milestone, GovMint.com and The Royal Mint in Britain is releasing a spectacular range of collectible proof coins struck in gold, silver and platinum, featuring a royal portrait designed especially for the occasion.
Issued in a range of sizes and denominations, the precious metal coins being offered by GovMint.com all feature exclusive certification by Numismatic Guaranty Corporation (NGC) as "One of First Struck." This certifies the coins as being among the first struck from the total mintage of each coin—believed by many collectors to display top quality and flawless beauty. GovMint.com is the exclusive worldwide distributor for these certified collector coins from Britain's Royal Mint. The Royal Mint has struck coins for the kings and queens of Britain for more than 1000 years. The coins being released by GovMint.com today range from a 28 gram silver proof featuring her Majesty all the way up to commanding five-ounce gold and silver proofs—and even a nearly 4" wide massive legal-tender Silver Kilo.
Shane Bissett, The Royal Mint's Director of Commemorative Coin and Medals said, "Except for unofficial souvenirs struck for Queen Victoria in 1897, there has never been an official coin produced to mark a monarch becoming the longest reigning king or queen in Britain which makes The Royal Mint's Longest Reigning Monarch Collection even more distinctive."
"We join the rest of the world in celebrating Queen Elizabeth II's inspiring resilience, leadership, and indomitable spirit." said Bill Gale, founder of GovMint.com. "We are honored to partner with The Royal Mint to make these historic British gold, silver, and platinum coins available to collectors worldwide. God Save the Queen!"
About GovMint.com®
Since 1984, GovMint.com has been one of the world's leading sources of collectible coins. Headquartered in Minneapolis, MN, GovMint.com is an official distributor for seven major world mints and offers collectible coins from over 120 countries. GovMint.com has four offices in the U.S. More information at http://www.GovMint.com or call 800-642-9160.