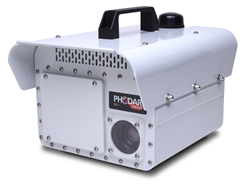 PLANO, Texas USA (PRWEB) September 08, 2015
Easy setup, adaptable capture software, and IP-based communications make the Stalker Phodar SE-1 a versatile traffic violation photo-evidence collector.
The SE-1 automatically monitors up to 32 vehicles moving in either direction across 4 lanes of traffic from any of three mounting locations. The SE-1 can be deployed on the side of the roadway mounted on a utility pole, street light standard, or tripod; over the roadway on a gantry or bridge; or inside a stationary vehicle.
The SE-1 features a setup wizard that guides the user through a step-by-step configuration sequence. All settings necessary to begin evidence collection are covered by the wizard, and once set up, the parameters are stored internally and remain unchanged in the event the device loses power and then restarts.
The SE-1 can be operated remotely via TCP/IP connection. It stores violation records internally which are available for review through its Evidence Browser mode. Violation records can be searched, reviewed, and copied to any device using its USB port, Ethernet connection, or transferred via FTP to a dedicated server. Optionally, data can be transferred via WiFi or GSM.
All pertinent information is contained in one screen, enabling fast and accurate violation classification.
Each violation record includes:

Date and time
Evidence number
Vehicle ID
Number of Photos
Speed limit at locations
Direction of vehicle travel
Maximum speed in the measurement zone
Captured speed / speed limit difference
Cropped number plate (if ANPR option is enabled)
Video evidence can be reviewed frame by frame. The violator is identified in the video with an orange overlaid box and a Road Plan view that shows the settings at the time of the infraction. A Smart Evidence Photo can be generated for printing and ticketing.
The unit's IP67 rating and -30°C to +60°C operating temperature range allow deployment in nearly any weather conditions. A variety of lens focal lengths are available as well as color or black and white 5 MPixel video sensors. The unit is powered by 12VDC, or an optional AC power supply.
Founded in 1977, Applied Concepts, Inc., introduced the first Stalker Radar to the law enforcement industry in 1989. Stalker Radar is the dominant law enforcement and sports Doppler radar system manufacturer and has leveraged its expertise to create a line of high-performance radar sensors for numerous traffic monitoring and control applications.