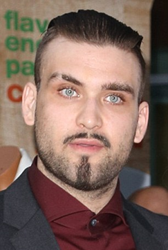 Wes has also been known for following in the footsteps of his father Nicolas Cage with his illustrious and ever-growing acting career
Hollywood, CA (PRWEB) September 04, 2015
Weston Cage has been all over the news and Hollywood scene of late. Paparazzi have constantly been catching Wes at celebrity events and red carpet premieres, most recently with Johnny Knoxville for the premiere of Being Evel. The music and entertainment press have been buzzing about Wes' transformation from a black metal icon to his new look as an edgy and sophisticated rocker. The transformation began this summer when Wes began working on his upcoming album which will move away from the black metal image that fans are familiar with, and begin his new brand in the genre of hard rock.
Wes has also been known for following in the footsteps of his father Nicolas Cage with his illustrious and ever-growing acting career. Weston Cage has been seen in blockbuster hits such as Rage and Lord of War with co-stars Jared Leto and Ethan Hawke. He currently has several upcoming films including Devotion with Dennis Haysbert and Daniel Baldwin and when he is not on movie sets he has been in the studio working on his biggest album to date.
Although Wes has not given a specific release date for the album he does plan on releasing the first single this November. One of the most impressive things about the new album is that Wes has been singing all the vocals and playing every instrument himself for the entire album. However, there has been confirmation that Megadeth bassist David Ellefson will featured on at least two of the tracks, and the entire album is being produced by super producer Ryan Greene who is known for producing for Alice Cooper, Usher, and Jay-Z.
When asked for his comment on the attention his new album is already receiving, Weston Cage had this to say, "Music is always going to be one of my biggest passions. I have love and respect for all genres and this album is going to show more of my diversity as an artist and give the listeners a sound and message they will love to rock to. Thank you to all of my fans for their patience and support with this project."
For media inquires contact Domenick Nati of Nati Celebrity Services at DNati(at)NatiCelebs(dot)com and for more on Weston Cage including his bio, photos, and previous music visit http://www.WesCage.com
http://www.WesCage.com
https://twitter.com/WesCage
https://instagram.com/WestonCage
https://www.facebook.com/WesCage