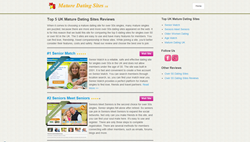 Mature Dating Sites
(PRWEB) September 07, 2015
U.K. - There are real perks to being a senior citizen. Enjoying retirement, traveling and visiting family is always a joy. There are some, however, who perhaps have lost their life partner and are ready to find someone new.
The Internet and computers can be quite intimidating for seniors. Many are hesitant to trust some sites and especially those sites that require personal information or credit cards.
The site has plenty of features that make this the perfect destination for seniors looking to find a date. An easy to follow page with large type and honest, no nonsense reviews mean the best value for the money spent.
The site buys subscriptions to the sites and gives each site a full and thorough unbiased review of each. Mature Dating Sites looks at the number of potential matches, ease of use and price. It then publishes these reviews on the home site.
Those who may be hesitant starting dating again will find tips and suggestions for the perfect date. Inexpensive yet fulfilling opportunities abound, and Mature Dating Sites has plenty of ideas in an easy to read blog.
Looking to find other sites that have honest and unbiased reviews? Mature Dating Sites also owns other sites that review dating sites for mature and senior citizens. All have the same friendly, easy to follow type and pertinent information that matters: price, value and security.
More information is available on the site. Visit http://www.maturedatingsitesuk.co.uk.