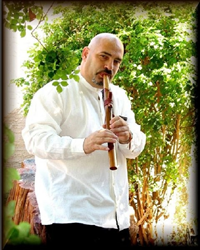 I am honored and grateful that my flute music has been given this opportunity to make a contribution to the remembrance of that time in history.
Phoenix, AZ (PRWEB) September 08, 2015
The music of Sun City resident, Scott Schaefer, known in Arizona for his distinctive musical interpretations using Native American-style flutes, is featured on the soundtrack of the nationally released film, "RIDE THE THUNDER," which premiered in Tempe, Arizona, on May 29, and is being brought back to the Phoenix area by popular demand starting on September 11, 2015, at the Harkin's Arrowhead Theatre in Peoria, AZ.
During its run at the Harkins Arrowhead Theatre, cast appearances and special events are planned, during which time Scott Schaefer will greet visitors and personally display a few of the American Native Style Flutes used in the soundtrack.
Please check http://www.ridethethundermovie.com for appearance times and details.
The significance of Scott's musical contribution to the soundtrack was expressed best by the film's director, Fred Koster, who wrote, "Scott, I just wanted to send you this message to tell you how much I appreciated you being a part of our film RIDE THE THUNDER. The wide range of your flute skills added such depth and feeling to the film score. For some scenes it brought out the beauty of the cinematography of the film, while in others it brought tension and suspense. Still in others, it brought out the tenderness of scenes, especially with the husband and wife. I look forward to working with you on future projects!!"
"RIDE THE THUNDER" honors our Vietnam veterans and the Vietnamese people by telling the suppressed truth of the War. This feature film is based upon a heroic true story of friendship between American Marine legend, John Ripley, and Vietnamese Marine hero, Le Ba Binh, both during and after the Vietnam War. When "RIDE THE THUNDER" premiered in California, it was #1 in the nation in box office revenue for its opening weekend on a per theater basis.*
When "RIDE THE THUNDER" premiered at the Harkin's Arizona Mills 25 IMAX in Tempe, AZ, for a scheduled one week engagement, so many tickets were sold that "RIDE THE THUNDER" had to be moved into its biggest theatre with 430 seats, and the run was extended to two weeks.
Scott Schaefer has long had personal connections to the Vietnam War, because he is veteran of that period himself, and because his father, Major John Schaefer (USAF, Retired), was an Air Force pilot in Vietnam.
Scott went into the Army late in the Vietnam conflict, which gave him the official classification of "Vietnam Era Veteran," although he was never sent to Vietnam. According to Scott, "I have always been uncomfortable being called a Vietnam Era Veteran. Although technically true, my service hardly compares to that provided by those who fought in Vietnam. They are the true Vietnam Era Veterans and heroes every American should respect and honor."
Scott becomes somber when he speaks about his feelings about the Vietnam War. "Until I became involved in this movie, I had no idea that what it portrays had occurred. I am honored and grateful that my flute music has been given this opportunity to make a contribution to the remembrance of that time in history."
Scott's personal music thunder started softly in 2003, when he bought his first Native American Style Flute and taught himself to play. Six months later, he was performing during church services.
By today, thousands of people living in the greater Phoenix Area and surrounding cities, and visitors to Arizona from around the world, have had a chance to hear Scott perform at such venues as Hard Rock Café, Japanese Friendship Garden, Tempe Festival of the Arts, Flagstaff Folk Festival, Superstition Mountain Museum, Boyce Thompson Arboretum, Starwood Property Hotels in Scottsdale, and Studio Live in Sedona, as well as at other venues throughout Arizona.
He has released seven albums that have sold thousands of copies to fans at these venues, as well as to fans that have ordered directly from his web site, http://www.musicofscottschaefer.com. In 2004, Scott released the album Grateful Journey, followed by Beyond Paradigm; Harmonic Journey; Ebb and Flow; Sacred Waters; Under One Sky; and his most recent album, Heart Monster (with his former band "Celestial Misfits"). Samples of these can also be enjoyed for free at http://www.musicofscottschaefer.com.
Scott is a highly captivating entertainer who connects extremely well with his audience. His diverse capabilities with Native American-style flutes allow him to fit in wherever and whenever a musical "twist" is needed. His improvisational skills make him the ideal studio musician for anyone, in any genre. His ability to immediately find the song-within-the-song makes it possible for him to enhance someone else's music or performance "in the moment," with little or no rehearsal needed.
His gift is finding the musical emotions in any occasion, and presenting them in captivating solo or group interpretations. This makes Scott's live music an excellent choice for private gatherings, weddings, memorials, funerals, concerts, theatrical performances, soundtracks, fundraisers, and dining or pub entertainment.
For bookings or more information, contact Scott directly at 602-570-9396 or email by email to musicofscottschaefer(at)gmail(dot)com.
*Rentrak