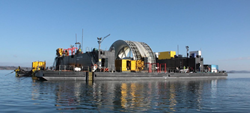 (PRWEB UK) 9 September 2015
Natural Power and sister company SeaRoc have joined forces to develop their offshore energy capabilities in France. This has now resulted in the two companies, led from Natural Power's Nantes office, being awarded a contract by EDF to oversee the HSE and marine operations for the continued development of the Paimpol–Bréhat Tidal Farm which is being constructed off the coast of Paimpol–Bréhat in North Brittany.
SeaRoc has been working with EDF on the project since 2011, providing marine and HSE advice and offshore client representation for the marine operations carried out to date. This included deployment and recovery of the OpenHydro turbine, installation of the main export cable, cable stabilisation and protection works, and the post-installation surveys and inspections. This first-hand experience of the project, coupled with Natural Power's local, French-speaking team, and their extensive experience of planning and development, legislative requirements, planning law and knowledge of the French market, presented the ideal solution to EDF as it moves the tidal farm from the deployment and testing of a single prototype tidal turbine to the installation of an array of multiple grid-connected devices.
Thierry Ripoche, Managing Director of Natural Power France, said: "We are delighted to be collaborating with SeaRoc to work with EDF in France. This opportunity showcases our ability to meet the growing needs of the European market and support our clients to safely and effectively develop ground breaking projects."
The Natural Power/SeaRoc combination will provide EDF with a local, French speaking team of tidal energy and turbine installation experts to ensure compliance with health and safety and to carry out the role of client representative during the marine operations.
Natural Power France has a long standing relationship with EDF having provided consultancy services on a range of offshore developments in French waters. Until now, services provided have mainly focused on development phases, for example Environmental Impact Assessment and ornithological expertise for the Saint-Nazaire offshore wind farm project (480 MW) and the Calvados offshore wind farm project (450 MW).
SeaRoc has previously worked with EDF in the UK on a number of projects, most recently in the role of Principal Contractor to oversee construction of EDF's first offshore wind farm at Teesside in the Northeast of England. On this project SeaRoc provided a team of construction managers to oversee all aspects of the offshore construction and the onshore compound, with a team of approximately 50 personnel. This included support from Natural Power who acted as package manager to oversee installation and commissioning of the 27 offshore wind turbines required for the project.
David Wotherspoon, Operations Director at SeaRoc, added: "Natural Power and SeaRoc have extensive experience in offshore renewable energy – combining our expertise enables us to provide a service that meets the specific needs of EDF on this project, and harness the strength of this partnership for our French clients in the future."
Tidal energy is becoming an increasingly important area for Natural Power and the business has recently been working alongside Tidal Lagoon Power on the Swansea Bay project, which was granted planning permission last month.
Paimpol–Bréhat Tidal Farm
The Paimpol–Bréhat tidal farm is a tidal turbine demonstration farm located approximately 16km out at sea and 35m deep off Ile-de- Bréhat near Paimpol, France. It is being developed by EDF. First initiated in 2004, work began in 2008 and the first turbine was installed in August 2011. A turbine named L'Arcouest developed by OpenHydro (selected for its low cost and ease of installation) was tested at the site from December 2013 to April 2014.
OpenHydro (owned by the French company DCNS) will develop, install and test two turbines in partnership with EDF from 2015. The turbines are specially designed with an opening in the middle to provide safety and easy access for fish and other sea creatures.
An electrical conversion system developed by General Electric will allow the green energy to be transported as continuous electrical current to a new onshore substation close to the Arcouest Peninsula in Ploubazlanec to finally join the French grid. On completion, the tidal farm will be the first tidal power project in the world to be connected to the grid. The pilot project is expected to pave way for the pre-commercialisation of tidal farms from 2016.
Notes for editors:
About Natural Power
Natural Power is a leading independent renewable energy consultancy and products provider. The company offers proactive and integrated consultancy, management and due diligence services, backed by an innovative product range, across the onshore wind, offshore wind, wave, tidal, renewable heat, solar pv and hydro sectors, whilst maintaining a strong outlook on other new and emerging renewable energy sectors.
Established in the mid 1990s, Natural Power has been at the heart of many groundbreaking projects, products and portfolios for more than two decades, assisting project developers, investors, manufacturers, research houses and other consulting companies. With its iconic Scottish headquarters, The Green House, Natural Power has expanded internationally and now employs 320 renewable energy experts.
About SeaRoc
SeaRoc provides marine, engineering and construction contracting services for offshore renewable energy projects in the wind, wave and tidal energy sectors. The company has been involved throughout the project cycle on a large number of UK projects, as well as an increasing number of Northern European, North American, Australian and Asia-Pacific projects. It has a head office in Chichester, with satellite offices in Dundee and Orkney.
SeaRoc's services include: marine, QHSE, engineering and project management expertise; EPCI contracting; turn-key offshore met mast installation, temporary power generation; and SeaPlanner®, an integrated marine management software package.
The business has extensive experience of tidal stream energy and has provided construction support to a number of leading developments to date, including MCT's SeaGen device in Strangford Lough, OpenHydro, Alstom TGL and Scot Renewables, as well as the work they have been doing on the EDF Paimpol–Bréhat Tidal Farm since 2011.
Contact details:
Jane Maher
PR and Media
Natural Power
T: 07887 995 589
E: janem(at)naturalpower(dot)com
Sarah Simmons
Marketing Manager
SeaRoc
T: 01243 816 606 / 07557 795 402
E: sarah(dot)simmons(at)searoc(dot)com