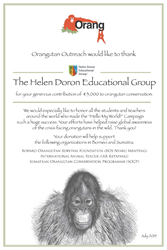 London, UK (PRWEB) September 09, 2015
"Hello My World!" is an international social awareness and educational campaign initiated by the Helen Doron Educational Group to mark the 30th anniversary of Helen Doron English. The awareness campaign taught students about how and why animals lose their natural habitats and how palm trees used for manufacturing palm oil can lead to the extinction of numerous animal species.
3000 students from 31 countries submitted videos in English to spread the message. Helen Doron Ltd. matched each submission with a donation and €3000 has been awarded to Orangutan Outreach to continue to promote public awareness and to protect orangutans in their native habitat while providing care for orphaned and displaced orangutans until they can be returned to their natural environment.
Richard Zimmerman of Orangutan Outreach responds, "We would especially like to honour all the students and teachers around the world who made the "Hello My World!" campaign such a huge success. Your efforts have helped raise global awareness of the crisis facing orangutans in the wild. Thank you."
For more information about "Hello My World!" and how you can help the endangered orangutans, go to: http://www.helendoron.com/world/hello/
About the Helen Doron Educational Group
The Helen Doron Educational Group stands at the forefront of innovative educational systems, providing exclusive learning programmes and quality educational materials for babies, children and adolescents the world over since 1985. The company's flagship franchise, Helen Doron English, along with Helen Doron Kindergarten, MathRiders, Ready Steady Move! franchises today encompass nearly 800 learning centres in almost 40 countries in Europe, Asia and South America. Today, more than two million children have learnt with the unique Helen Doron methodology. The Helen Doron Educational Group invites entrepreneurs to join a successful business operation that benefits children around the world. Visit us at http://www.helendorongroup.com.