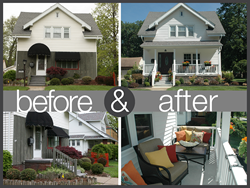 Maumee, Ohio (PRWEB) September 09, 2015
Looking to sell a home? Then beef up the curb appeal. That's the advice of realtors who say that many home buyers won't even get out of their cars unless they like the way the house looks from the street.
"People need to 'connect' with the outside of a home before they'll consider looking at the interior," says Joanne Meredith-Nolan, real estate sales agent with Laffey Fine Homes in Huntington, New York. "Today, buyers can be choosy. If the exterior has overgrown bushes, peeling paint or old, faded shutters, that's enough to stop some people from even getting out of the car."
In a competitive housing market, how can a home seller make sure that their home isn't passed by when putting it on the market? They can start by thinking about the 3 C's of curb appeal developed by Fypon, a polyurethane manufacturer.
Homeowners can start by keeping a home exterior clean, clutter-free and colorful. That means power washing the driveway and walkways, trimming back overgrown shrubbery and putting away the yard art. It also means adding pops of color around the outside, like new shutters, a fresh coat of paint on the front door and flowers in pots and window boxes.
"We have a checklist for sellers that includes a perfect front walk and a front entrance that's better than just perfect," says Tom Kabat, a real estate sales agent for 16 years with Welles Bowen Realtors in Ohio. "It's the old story that 'you only have one chance to make a first impression' so you better make it count!"
Dara Morgenstern, a homeowner in Ohio, recently updated her 1922 home by adding a new Therma-Tru® entryway, vinyl windows and a Fypon® porch balustrade system. The transformation caught Kabat's eye and he predicts it will be easy to get prospective buyers excited about the house when Morgenstern decides to sell.
"If there were three houses for sale on the block, Dara's home would attract a buyer because it looks well maintained," says Kabat. "It's got clean lines, a dynamite exterior and just seems to pop compared to other properties in the area. She's got the curb appeal that everyone envies."
To achieve eye-popping curb appeal, experts recommend homeowners step back and take a "top down" look at their home.
Start with the roof. Is it in good shape, clean and colorful? Does it complement the style of the home? If a new roof is needed, homeowners should make a smart investment and consider a long-lasting polymer slate or shake roofing product, like those from DaVinci Roofscapes. Along with being offered in 50 standard colors and a multitude of color blends, these hardworking roofs are impact- and fire- resistant. With a lifetime limited warranty behind them, these roofing products make a great first impression.
"Working your way down the home, make sure the siding and trim are in very good shape," says Meredith-Nolan. "No buyer wants to look at a home and think that the first thing they'll have to do is paint or replace rotting wood trim.
"If the siding, shutters or trim look shabby, invest time and money in updating them before putting a house on the market. Think about low-maintenance products like vinyl or fiber cement siding and polyurethane trim pieces. These products look great and also have salability that can be passed on to buyers who don't want the hassles of long term maintenance."
For a front entry, consider a fiberglass door for looks and energy-efficiency. Both woodgrain and paintable options are available from Therma-Tru. And, to boost curb appeal (plus the light entering a foyer), opt for decorative glass doorlites and sidelites.
"If you want to get buyers to take your house seriously, then spend time to get them through the front door," says Kabat. "Falling in love with a home starts before someone gets out of a car. It takes just seconds for a prospective buyer to either connect with or reject your home based on its curb appeal. Invest in your home exterior and you'll never go wrong."
For a free guide to adding top-down color and products to the home, visit http://www.fypon.com/design.
###