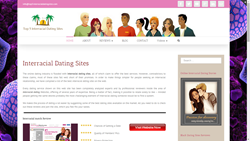 (PRWEB) September 15, 2015
According to an independent study conducted by InterracialRelationshipsOnline.com at 3rd, Sep, interracial dating has been the fastest growing segment in the online dating industry. According to the statistics, the number of interracial marriages has increased by four times.
A spokesperson of InterracialRelationships.com said, "The growth is impressive. It shows that people are welcoming change. We have always encouraged people to date a person from a different race as it not only gives them the opportunity to learn new things but also view the world from a different perspective. In the recent years, we have also witnessed many celebrities exploring this segment."
According to estimated figures released by this site, interracial marriages account for around 9 percent of all marriages in the United States. It is also worth stating that until 1967, interracial marriages were considered a criminal offense in the nation. "People from across the globe no longer restrict their options. As long as they share a great bonding, race or color doesn't matter," the spokesperson added.
Countries like the United States of America, Canada, Australia and the United Kingdom have turned into educational hubs over the years, which attract students from all over the world. "Thanks to the increasing interactions between the native people and foreigners, interracial relationships have flourished. Besides, interracial dating sites have added to their convenience. People can now connect with like – minded people from across the globe using the communications options available on these sites," said Lupe Lyons, a California based dating counselor.
InterracialRelationshipsOnline.com is a comprehensive support platform that encompasses reviews of the top interracial dating sites. It is absolutely free to use and requires no registration.