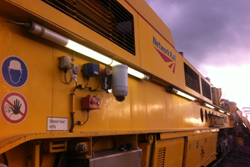 "We're proud to support the Rail Alliance and Network Rail by providing security for Rail 2015."
Rochdale, Greater Manchester (PRWEB UK) 10 September 2015
Wireless CCTV Ltd, a leading provider of redeployable CCTV, site security systems and body worn CCTV is delighted to announce it will be working in partnership with the Rail Alliance to provide site security for the upcoming Rail 2015 event.
Rail 2015, which takes place September 16-17, is the largest outdoor rail show. Aimed at the entire rail sector, Rail 2015 will showcase products and services that meet increasingly demanding requirements, with a particular emphasis on best practice, ingenuity and the application of innovation.
During the event, held at Long Marston, Stratford-Upon-Avon, WCCTV will deploy their all-in-one site security solution, the WCCTV Site Tower, to protect key assets and compounds. The systems will be used over a four-day period to ensure the safety and security of visitors and exhibitors during the event and build up/breakdown periods.
Speaking on the event, WCCTV's Managing Director David Gilbertson said, "We are proud to support the Rail Alliance and Network Rail by providing security for Rail 2015."
During Rail 2015, WCCTV will also be exhibiting their range of innovative services for the rail industry at the event, including the Network Rail Type Approved Tower, the only CCTV system to be approved by Network Rail for trackside deployment.
WCCTV will also be demonstrating its solutions for Remote Condition Monitoring, including leaf fall monitoring, flood and landslip detection, crack and buckling monitoring and points monitoring.
WCCTV also has a range of surveillance systems to assist with Level Crossing monitoring, SPADS monitoring, depot and site security and prevention of trespass and vandalism.
For more information on the full range of rail systems provided by WCCTV visit http://www.wcctv.co.uk or call 0800 470 4630.