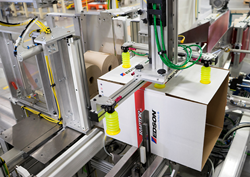 HAMILTON, Ont., Canada (PRWEB) September 08, 2015
Edson Packaging Machinery, powered by Pro Mach, introduces at Pack Expo in Las Vegas, September 28-30, the Raptor SL fully integrated side-load case packer that erects, packs, and hot-melt seals cases at a rate of up to 12 cases per minute. The Raptor SL case packer was designed to give small and medium sized companies an automated solution that helps to lower labor costs and increase throughput. The Raptor SL is ideal for case packing paper products, foods, pharmaceuticals, and personal care items such as diapers. (Edson Pack Expo Booth C-3021)
The Raptor SL lowers end-of-line labor costs by reducing both the number of workers and overall time associated with case packing. Loading knock-down flat (KDF) corrugated cases onto the infeed conveyor is fast and less labor intensive than many other automated case packers. With an optional extended infeed conveyor, more than a half-dozen skids containing KDFs may be staged. Based on the speed of production, the extended conveyor can potentially lead to hours of labor free loading. The Raptor SL automatically loads each new stack while continuing to run, promoting maximum uptime. Operators can easily select for KDF dunnage or zero dunnage loading from the infeed. This gives the operation flexibility in the use of KDFs.
Changeover between SKUs can be accomplished in as little as 15 minutes and does not require tools. Edson also offers an option based on servo technology that performs rapid, fully automatic changeover. This option was developed for packaging lines with numerous SKUs per shift.
The Raptor SL features a fully integrated hot-melt unit that seals cases up to 25 by 20 inches (64 by 51 cm). Edson partnered with Beckhoff Automation, one of the world's technology leaders in automated controls, for the Raptor SL's control architecture – an architecture that has been optimized for fast precise motion control. The Raptor SL also offers fully integrated safety motion control.
Operators can access vital machine functions and information from a touchscreen interface, including recipes for various SKUs, alarm settings, production data, and maintenance documentation – print, diagram, and video.
"The Raptor SL allows small and medium sized packaged goods companies to affordably step up to fully automated, quality case packaging, and reduce end-of-line labor costs, thus freeing up personnel for more value adding work," said Jeff Werner, Vice President of Operations and Engineering at Edson. "Some low-volume operations may be able to route two or even three lines into the Raptor SL for case erecting, packing, and sealing. This new machine is easy to use and extremely reliable."
For more information on the new Raptor SL side-load case packer, call Edson at 905-385-3201 and visit http://www.Edson.com. Be sure to stop by the Edson Booth #3021 at Pack Expo in Las Vegas.
About Edson
Edson, powered by Pro Mach, manufactures robust, high-performance case and tray packaging systems. Edson has long-standing customer relationships with food, pharmaceutical, consumer goods, and tissue converting companies that require innovative, high-speed horizontal case packing, material handling, and top-load robotic solutions. The company is based in Hamilton, Ontario, Canada, and has installations worldwide. For more information about Edson, visit http://www.Edson.com.
About Pro Mach
Pro Mach is a leading provider of integrated packaging and processing products and solutions for food, beverage, consumer goods, pharmaceutical, and other diverse companies. Through its brands, Pro Mach provides product packaging and processing equipment, PMMI certified training, installation, parts, and service in Bottling & Capping, Primary Packaging, Flexible Packaging, Material Handling, Labeling & Coding, and End-of-Line.
Pro Mach has a diverse customer base, from Fortune 500 companies to smaller, privately-held businesses worldwide, which depend on reliable, flexible, technologically advanced equipment and integrated solutions. Pro Mach is headquartered near Cincinnati, Ohio, with manufacturing facilities and offices throughout the United States, Canada, Mexico, and Europe. For more information about Pro Mach, visit http://www.ProMachInc.com.